(web ads above removed with paid membership. Click here for advertisement rates)
Friends of Blackjack Insider... great sites from our authors and partners:
| | |
| --- | --- |
| BJRNet.com is a premier web store and forum center for advantage gamblers. Huge product catalog! | |
Click here to subscribe to the Blackjack Insider e-newsletter. FREE blackjack advice, sent by e-mail bi-monthly. We never distribute or sell your e-mail address (see our Privacy Policy). The Blackjack Insider is supported by our sponsors, advertisers, and paid-subscribers.
A WORD FROM HENRY
This month Vinny DeCarlo summarizes an ugly "racial" incident that occurred in a Las Vegas casino in the 1970s (yes, Las Vegas was very much a segregated city during this time). JPB rushed me his St. Louis trip report so you can take advantage of a terrific blackjack game that he found. Mark Gruetze visited three casinos in the Western part of Pennsylvania, and he summarizes the playing conditions in his article. Frank Scoblete writes about his experience with Hurricane Sandy, and reporter Herbert summarizes the financial impact the storm had on the casinos in Atlantic City. If you ever want to learn about the Global Gaming Expo (known as G2E) that is held in Las Vegas annually, read Stu D. Hoss's article on his first-time experience at this mammoth industry expo. There is a way for basic strategy players to boost their returns and that's to learn some advanced basic strategy plays (read my article for the details). John Grochowski has an informative answer to the question of why some casinos have five spots on their blackjack tables and others seven. I'm high on the new 2013 American Casino Guide (ACG) book, and Matt Bourie (Associate Editor) wrote an article on exactly what this new edition contains (see also our Product of the Month below for information on the book and the ACG app.) Last, but not least, read Jean Scott's article for some solid advice on how to put the fun back into your gambling experience.
For a list of the sparse blackjack tournaments scheduled for December, visit www.blackjacktournaments.com.
Have a Merry Christmas and Healthy and Happy New Year!
Henry Tamburin
Editor
PRODUCT OF THE MONTH
| | |
| --- | --- |
| | Here at BJI, we LOVE the American Casino Guide, which is the #1 best-selling gambling book in the country. It is full of amazing casino discount coupons that every player should have! Our price for the new 2013 edition is only $12.95, so there's no excuse not to order a copy!. Click here to order a copy for yourself from our store, or as a gift, today. (To see all the money-saving coupons, click here). |
Here's another great idea. Order the FREE American Casino Guide app for your iPhone and iPad. If you use the coupons in the 2013 American Casino Guide, you will find the app to be especially useful because it uses GPS technology to show you all of the casinos near you that have a coupon offer in the book. Here's a description of the app.
This app is a guide to all U.S. casino/resorts, riverboats and Indian casinos created by the publishers of the #1 bestselling book on casino gambling and travel! Includes details on each property with one-touch calling, money-saving special offers, find casinos closest to you, turn-by-turn directions, FREE gambling strategy articles and podcasts, plus instructional "How-to-Play" videos" for all casino games.

Find any U.S. casino by name, city or zip code
Detailed information on each casino: name, address, phone numbers (with one-touch calling), room rates, buffet prices, games offered, senior discounts, RV parking policies and special features.
Exclusive discount coupon offers for more than 80 casinos, including FREE: rooms, food, drinks, shows, gambling money, matchplay bonuses, plus much more!
Uses GPS to show you which casinos near you have special offers
Uses GPS to show you which casinos are near you within a 50-mile radius
State-by-state directory of all casinos with both map and list views
Turn-by-turn directions to any U.S casino
Read thousands of casino reviews
Submit your own casino reviews
See casino photos and upload your own photos
Extensive library of text articles and audio podcasts for strategies on playing all casino games
Access American Casino Guide's YouTube channel to watch an extensive collection of instructional gambling videos
For more information, or to download the app, go to https://itunes.apple.com/us/app/american-casino-guide/id574179564?mt=8. Or, just go to the App Store and search for "American Casino Guide."
GIVE THE GIFT OF WINNING!
We have books, strategy cards, DVDs, and training software for blackjack, video poker, and craps that make great holiday gifts for family and friends. All products are discounted. There is still time to place your order. Click here to browse our secure online store.

Here are some advantage gambling gift ideas for you to consider, all shipped in time for Christmas: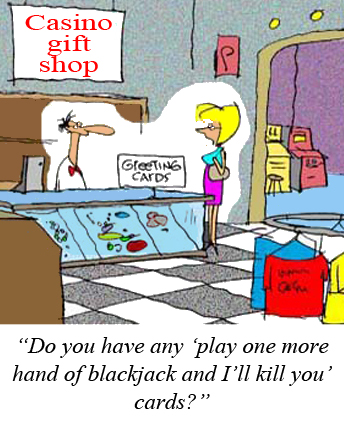 Copyright ©2012, Jerry King, www.jerryking.com. All rights reserved.
Eliot Jacobson wrote an excellent article on progressive betting systems in issue #62 of BJI. If you are using a progressive betting system, or plan to use one, you need to read his article.
If you come across an unfamiliar blackjack term in one of our articles or reports, see our Blackjack Glossary: www.bjinsider.com/questions_glossary.shtml.
Did you know we have all past newsletter issues available in our archives, with online search?
BJI Archives:
www.bjinsider.com/newsletter.shtml#back_issues
BJI Search:
www.bjinsider.com/newsletter.shtml#search
E-mail subscribers can also read each month's issue online at our web site: BJI Issue #155, December 2012.
---
Blackjack Counter+Expert
for Android and iPhone

Contains all features from Mentor, Counter and Expert
in one App for Android and iPhone!
Play Blackjack with advanced casino options AND learn to count cards at the same time! Blackjack Expert teaches you card counting techniques while playing against the computer, or using one its many training modes. This is a professional blackjack training package, containing everything you need to go from beginner to seasoned card counting expert.
Blackjack Expert is a game simulator and testing tool combined in one easy-to-use program. As you play blackjack, your decisions are tested: actions, index plays, bet sizes, and insurance. The software is packed with advanced features for mastering every aspect of Blackjack card counting. Whether you're just looking for a great Blackjack game or looking to learn card counting techniques, Blackjack Expert is the fastest way to improve your game. Card Counting can give you a statistical edge over the casino.
Blackjack Expert contains all of the powerful blackjack training features and drills our users have come to enjoy and expect in our products. The user interface has been greatly enhanced and simplified to leverage the great features of the Android and iPhone, making mastering card counting strategies on the go even easier!
The complete Speed Count system is included with the base application. Or, purchase the complete HighLow count system and others as In-App purchase right inside the software (Add-ons mode), installed immediately into the program.
The new Rules mode lets you select the game rules and count system, and a matching action table and index set are selected automatically.
Create and edit your own count systems from Rules mode. All the powerful high-end features you've come expect from our products are available for Android and iPhone.
144 built-in basic strategy tables for non card counters, selected automatically as you change the rules.
Extensive, context-sensitive help built right into the application. Supplementary documentation on card counting will help novices learn what it is all about. No need to purchase anything else to master card counting!
Simplified settings for Count mode to configure deck counting drills, while all options are still available for advanced users.


Also available... Blackjack Mentor for Android and Blackjack Mentor for iPhone.
What our customers say...
"This is a great TEACHING progam not a game, learn Basic strategy, counting, different count systems, rules. As they say 'Its all in there'."
"This app is perfect. There's no other app like it."
"An excellent app to improve play. Absolutely no glitches!"
"Glad to see this program on the Droid Platform. Works great!"


Also available for Windows
---
Blackjack Insider e-Newsletter ONLY $19.95!!
Expert articles on blackjack & beatable casino games
12 months of great articles
Blackjack, poker, craps, video poker
Casino reports, tournament strategy, and more
Over 900 past articles available to read
Learn to beat the casinos!
You've Got Heat 1 & 2, e-books
3 months of
Casino Player
Best of BJI
e-book
Blackjack Mentor
training software
3 month BJ21.com
Green Chip forum
Offer not valid on subscription renewals. New member subscriptions only.
---


---
"In the 70's, an African American had about as good a chance of being treated fairly in a Las Vegas casino as a 7 spot Keno ticket. I remember one certain incident where this giant African American man (his name was Charles) was walking through the casino when he was suddenly surrounded by three little whitey know-it-all casino security guards..."
Read DeCarlo's complete article.
"I usually try to cover at least three casinos in a trip report, but on my recent visit to St. Louis. I only had time to visit two casinos. However, because the playing conditions at one of the casinos was so good, I decided to write this trip report..."
Read JPB's complete article.

"Pennsylvania, which ranks No. 3 nationwide for consumer spending on casino gaming, has some of the most player-friendly blackjack rules in the country. Here's a look at the playing conditions in three casinos in western part of the state..."

Read Gruetze's complete article.

"Frank Scoblete and his team of reporters summarize the damage caused to Atlantic City by hurricane Sandy..."

Read Scobletes' complete article.

"Thanks to a friend of a friend, I had the opportunity to attend the Global Gaming Expo (G2E) at the Sands Expo and Convention Center in Las Vegas in early October. For those of you who aren't familiar, G2E is the premier trade show and conference event for the global gaming industry. In this article, I'll attempt to capture the exhibit-hall experience, as well as, share some of my adventures, observations, and things I learned..."

"It's no secret that the basic playing strategy is the optimal way to play your hand when the only information you consider is your hand total and the dealer's upcard. This scientifically accurate strategy will cut the house edge to a measly half a percent or so, depending upon the precise rules. However, you can do even better than this by employing the following advanced basic strategy plays..."

Read Tamburin's complete article.

"John Grochowski answers reader's questions on the pros and cons of five vs. seven spot blackjack tables, Double Double Bonus Poker with more than one progressive jackpot, and the payoffs for flushes in Three Card Poker..."

Read Grochowski's complete article.

"The main reason that players really love this book is all of the money-saving cut-out coupons located in the back. For 2013, we have a whopping 203 money-saving coupons that can be used in many casinos throughout the U.S. (However, the majority is for the Las Vegas area.) These include 2-for-1 buffets, 2-for-1 show tickets, free drinks, special room rates, and most importantly, there are many gambling coupons. By using just a few of the coupons, you'll recoup the cost of the book..."

Read Bourie's complete article.

"Here are some solid tips from the Queen of Comps on how you can put the fun back into your gambling..."

Read Scott's complete article.
©2015, DeepNet Technologies. No material to be copied without express permission of DeepNet Technologies.
This site developed by DeepNet Technologies, Ontario, Canada. Contact webmaster @ bjinsider . com if you have problems.
This site is best viewed in a 800x600 graphics mode, or higher.