(web ads above removed with paid membership. Click here for advertisement rates)


Click here to subscribe to the Blackjack Insider e-newsletter. FREE blackjack advice, sent by e-mail bi-monthly. We never distribute or sell your e-mail address (see our Privacy Policy). The Blackjack Insider is supported by our sponsors, advertisers, and paid-subscribers.
A WORD FROM HENRY
We've added two new products to our online store: Ken Smith's new innovative credit-card size basic strategy cards, and Bill Zender's new book Casino-ology - The Art of Managing Casinos. Both products are highly recommended.
Yikes! Only a few weeks till Christmas! If you haven't started your Christmas shopping yet, I've got a suggestion on how you can avoid the long lines and hassles at the malls. Check out my 2008 Blackjack Players Gift Giving Guide 101, which contains some awesome products that you can give to your friends, family members, and business associates this holiday season. You can purchase these products in our secure online store with just a click of the mouse. See below for details.
It's not often that we have a former casino manager and owner write for the BJI but this month we do. Bill Zender, who owned and operated the Aladdin Casino in Las Vegas, writes about what he says are "unintelligent" counter measures that casino executives often implement against suspected card counters. Zender is also the author of the new book, Casino-ology, and it's a good one (we've added to our online store; click here for details). Long-time BJI contributing writer Kenneth Smith has finally done something that he wanted to do for some time: he has designed and produced a new set of credit-card size basic strategy cards. Ken describes his new blackjack strategy cards in his article this month and I might add, these cards are very good and inexpensive (read about his unique approach to addressing the DAS/Non-Das pair splitting strategies on the same card in his article). We've added Ken's Blackjackinfo.com strategy cards to our online store and discounted them for BJI subscribers. Sometimes our writers offer more than just playing strategy in their articles. Case in point is this month's Atlantic City Report by Frank Scoblete. Not only does Frank and his team provide the latest blackjack conditions in AC (including a new four-deck game), but this month he provides a list of things to do in AC outside of the casino (keep for reference). Likewise, The Babe offers some excellent advice on when to pair split in tournaments as well as provide an example of how to use our search feature to find anything about blackjack in our archived BJI newsletters (you are using this feature, aren't you ... we have over 90 issues of BJI newsletters containing over 800 articles on blackjack [and other games] on our site ... this is a wealth of information available to you using our search feature ... read The Babe's article for a primer on how to do it). Casino gambling writer John Grochowski visited the Global Gaming Expo (G2E), which is the largest trade show for casino executives. This year's event was in November in Las Vegas and John reports on what he saw related to blackjack. Sammy Vaughn again reminisces about Vegas, this time about his first trip to the old Castaways Casino in Las Vegas in early 1970s. See what it was like playing single deck blackjack with your bowling pals cheering you on as you "count" down the single deck along with the casino boss (no kidding). Alan Krigman writes about the premium we get for a blackjack in a way that is quite unique (at least I've never seen it analyzed the way Alan does ...very informative). Joe Pane summarizes the perks in a poker tournament at the Wildhorse Casino which led to a big overlay for players (another tournament is scheduled for 2009 - read Joe's article for the details of this unbelievable event). Some poker players believe that the common practice of " checking it down" in tournament play is nothing short of collusion. Bill Burton adds his two cents in his poker column this month. Are you confused about dice setting in craps and don't really understand how it is critical to a controlled shooter's edge over the house? Be confused no more as dice controller extraordinaire Jerry Stickman explains the Hardway Set (the best dice set) in words and pictures. Note: We decided to temporarily suspend our schedule of major blackjack tournaments because their simply aren't many major tournaments scheduled for December or January. We will reinstate this report as soon as more major blackjack tournaments are scheduled by casinos.
Congratulations to BJI writer Frank Scoblete for being featured in the December issue of Harper's Magazine (along with the Dominator and the other Golden Touch Dice instructors). The title of the story in the magazine is appropriately called "The Golden Touch" and it retells the experience of the writer at a Golden Touch Dice Control class. Interesting reading.
Have a Happy Holidays,
Henry Tamburin
Editor
If you come across an unfamiliar blackjack term in one of our articles or reports, see our Blackjack Glossary: www.bjinsider.com/questions_glossary.shtml.
Did you know we have all past newsletter issues available in our archives, with online search?
BJI Archives:
www.bjinsider.com/newsletter.shtml#back_issues
BJI Search:
www.bjinsider.com/newsletter.shtml#search
E-mail subscribers can also read each month's issue online at our web site: BJI Issue #107, December 2008.
NEW!!! You asked, we listened! Readers have wanted to be able to view and print all the articles at once. To date, you had to view and read each article separately. Now, we have a special link that displays all the articles in one web browser page, and the margins are smaller so that it is easier to print the entire newsletter at once. This feature is only available to paid subscribers/members of Blackjack Insider.
---
2008 Blackjack Players Gift Giving Guide 101
Here are some suggests on what you can give friends, family members and business associates who enjoy casino gambling. All the products are recommended by Henry and they are available in our secure online store plus they are all discounted to save you money. We ship all products by fast Priority Mail so you'll get them in plenty of time for Christmas.
Advantage Gambling training software: blackjack, poker and craps software training bundles from DeepNet Technologies. Click here to see all the Christmas savings available on these great advantage gambling training software products.
Blackjack Players: Set of six Blackjackinfo.com Basic Strategy Cards or the new Golden Touch Blackjack DVD that demonstrates Speed Count and the Optimum Playing Strategy (better yet give them the combo consisting of the DVD, Golden Touch Blackjack Revolution book and CD, and a set of the OBS strategy cards).
Blackjack Tournament Players: They will be forever grateful if you give them a copy of Ken Smith's How To Win More Blackjack Tournaments e-book. Order the e-book under your e-mail address, and then print the e-mail with download instructions and give that as the gift for your lucky recipient (or, download the e-book, and burn it on a CD to put under the XMas tree)!
Slot Players: Do them a favor and give them a copy of Jerry Stickman's e-book, Advantage Play for Slot Machines. Learn to identify specific slot machines that can return a positive edge.
Video Poker Players: They will love you if you give them a copy of Jean Scott's Frugal Video Poker book and software combo.
Craps Players: What else but a copy of the book that will teach dice control: Golden Touch Craps Revolution book. Or, the Golden Touch Craps DVD, the best training video on dice control ever made, with Frank Scoblete and The Dominator.

All purpose gift for any casino player: You can't go wrong giving them a copy of the 2009 American Casino Guide (containing over $1,000 in coupons), or the new book Casino-ology by Bill Zender.

Lastly, here's an idea. Why not give them a one-year Membership to the Blackjack Insider Newsletter? We'll throw-in $80 worth of FREE gifts with their Membership ($19.95 for a full 12 months from sign-up). Just enter the recipient's e-mail address in the final checkout page instead of yours in the order (but, use your name and information that matches your credit card that you use). Click here for details.
---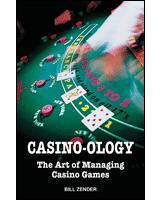 CASINO-OLOGY
The Art of Managing Casino Games
by Bill Zender
Bill Zender knows the art of casino management. In addition to having worked in, managed, and owned casinos for decades, Zender has also been an enforcement agent for the Nevada Gaming Control Board, as well as spent time as an advantage player, exploiting the vulnerabilities of casinos from the civilian side of the tables. Today, he travels the globe consulting for the international casino industry. In Casino-ology, Zender argues against excessive card-counter and shuffle-tracker countermeasures in favor of hand production to increase profits; he details the dangers of customer-service breaches, ill-conceived non-negotiable-chip programs, and past-posting, marked-card, and false-shuffle scams. He addresses player tracking systems, 6-5 payouts for blackjacks, the subtleties of marketing to Asian customers, nuances of the derivative pit games, even the science of turning around a distressed casino. By challenging long-cherished conventions, Casino-ology provides contrarian and radical, but proven, solutions to common gaming issues, all in the service of refining the art of casino management. 313 pages. Retail price $39.95. BJI subscribers pay only $36.00 (plus $5.50 for Priority Shipping). Save 10%. Click here to order.
---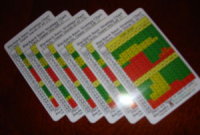 Ken Smith's
BLACKJACKINFO.COM BLACKJACK
BASIC STRATEGY CARDS
Take the optimal basic playing strategy with you when you play blackjack. These new, convenient, credit-card size (3 3/8" X 2 1/8"), color-coded strategy cards allow you to make the perfect play on every hand dealt to you. No more guessing when you use these casino-legal strategy cards. The cards include an innovative format that allows you to use the same card for games with or without the rule that allows you to double down after pair splitting plus they make it easy to see which hands are affected by this important rule. The cards are sold as a set of six consisting of:
1 Deck, Dealer Stands on All 17s
1 Deck, Dealer Hits Soft 17
2 Decks, Dealer Stands on All 17s
2 Decks, Dealer Hits Soft 17
4/6/8 Decks, Dealer Stands on All 17s
4/6/8 Decks, Dealer Hits Soft 17

Special BJI member's price: only $13.95 for set of six cards (plus $5.50 for Priority Shipping). To order, click here.
---
Writers needed for America's #1 Print Gaming Magazine!
Casino Player Magazine is looking for new writers. If you're knowledgeable about casinos and gambling, and you enjoy writing (even if you've never been published), they'd like to see about working with you. They are especially interested in writers who are based outside of Las Vegas and are familiar with casinos beyond the Las Vegas market.
Casino Player magazine provides gambling strategy & tips each month, as well as reviews of casinos, shows, nightlife, spas, restaurants - everything that encompasses the modern gaming experience. If you're interested, please contact managing editor Rob Wiser at editorcp@yahoo.com. Send any writing samples you have, and tell him what topics you'd be interested in covering. They pay competitive rates to their writers, and the magazine has been #1 in the industry for 20 years.
---
---
BJI offers...
$200 signup bonus!

BJI recommends Be The Dealer for online blackjack. Click here to learn why, and how to get your bonus.

| | |
| --- | --- |
| Our Blackjack Tournament Pro and BJI columnist Kenneth R. Smith has written his first book, How to Win More Blackjack Tournaments, which summarizes the blackjack tournament strategies contained in his articles from Blackjack Insider (plus three new articles not available anywhere else!). $14.95 for the e-book, available immediately after purchasing. | |

---
"Ever since Dr. Ed Thorpe released his findings on the potential exploitation of the casino game of blackjack in his classic book "Beat the Dealer" (1962), casino executives have been devising methods and techniques to ward-off this overly exaggerated and highly misunderstood threat to their casino's blackjack bankroll. Following are a list of different techniques that casino executives have been known to use when they suspect, but can't confirm, that one of their customers is counting cards..."
Read Zender's complete article.
"Most blackjack buffs, even those with considerable experience, underestimate the significance of ace-10 "naturals" to their game. Sure, everyone likes to pull a fair share of naturals. The rationale typically hinges on two factors. First, a natural can't lose; it pushes a simultaneous dealer blackjack and wins automatically when it's uncontested. Second, the payoff normally includes a bonus; rather than even-money, solid citizens get 1.5-to-1 in standard multi-deck versions of the game..."
Read Krigman's complete article.

"The latest playing conditions in Atlantic City including a new four-deck game, and Frank Scoblete's list of things to do outside of the casinos..."

Read Scoblete's complete article.

"My website BlackjackInfo.com has probably delivered more free blackjack basic strategy charts than any other source in the history of the game. The popular "Basic Strategy Engine" feature allows visitors to choose the exact rules of their local blackjack game and get a free printable strategy chart that shows a perfect basic strategy for that specific game. Free printable strategy charts were nice, but many site visitors also wanted a professionally produced strategy card they could carry to the table with them..."

Read Smith's complete article.

"Toward the back of the main display hall at the annual Global Gaming Expo, past the hustle, bustle, glitz and noise of the major slot machine manufacturers and their latest and greatest ways to separate you from your money, Joe Awada had a message for table games operators. "Because you have so much riding on blackjack," was the theme of his Gaming Entertainment Inc. booth at the Las Vegas Convention Center. It was a slogan written large on the sign behind the tables..."

Read Grochowski's complete article.

"This month our topic is pair splitting. Splitting pairs in tournament play is a problem that has been mostly overlooked. The best players in the game seldom address the subject, because there are countless situations and variations of the situations that can occur. This month we will look at an actual tournament situation from a few months ago, and establish a useful rule of thumb for the splitting of pairs in tournament play..."

Read The Babe's complete article.

"In the early 70s, I was on a trip to Vegas and the "Castaways Casino" courtesy of a bowling league that I was in that ended the season with a "paid-for" trip from Phoenix, Arizona to Sin City. The Castaways was a very small casino with two large barracks-type two-story hotel buildings in the back. The most memorable thing about the place was the extremely crazy men's room and the very small sports book..."

Read Vaughn's complete article.

"In Pendleton, Oregon stands the Wildhorse Casino, which is owned and operated by the Confederated Tribes of the Umatilla Indian reservation. The folks that run this casino are doing just the opposite of what the corporate big-wigs in Vegas are doing: they are opening up their pockets and offering their players numerous overlays in their Fall Poker Round up and guess what? Their plan is working, because it's running like a well tuned Ferrari..."

Read Pane's complete article.

"Many tournament players believe there is an unwritten rule that when a short stacked player goes all in and is called by two or more larger stacks, these players should check the hand to the end. This increases the odds that one of the callers will have a hand that beats the short stacked player and will knock them out of the tournament..."

Read Burton's complete article.

In Craps, the position of the two dice in relation to each other before the shooter picks them up and throws them is called the set. Each die has six faces that can be set on top (meaning facing skyward). With each of the six numbers on top, each die can be rotated so one of four numbers is facing you. (If it helps, get a pair of dice and follow along)..."

Read Stickman's complete article.
©2015, DeepNet Technologies. No material to be copied without express permission of DeepNet Technologies.
This site developed by DeepNet Technologies, Ontario, Canada. Contact webmaster @ bjinsider . com if you have problems.
This site is best viewed in a 800x600 graphics mode, or higher.