(web ads above removed with paid membership. Click here for advertisement rates)


Click here to subscribe to the Blackjack Insider e-newsletter. FREE blackjack advice, sent by e-mail bi-monthly. We never distribute or sell your e-mail address (see our Privacy Policy). The Blackjack Insider is supported by our sponsors, advertisers, and paid-subscribers.
A WORD FROM HENRY
Joe Pane provides the answers to the Blackjack Ball test in this issue (the same test taken by the blackjack pros ... so how did you do?), plus provides information on the new Nevada Poker League. We all know that 6-5 blackjack games are the pits but can they be beaten some way, some how? Check out Dan Pronovost's article for the surprising answer. JPB visited the casinos in Kansas City and reports on the playing conditions that he found and where the best games are located. Basic strategy players are better off playing a six-deck game than an eight-deck game, but do you know why? Alan Krigman explains in his article. According to Frank Scoblete, the blackjack games in AC are getting worse and the crowds in the casinos continue to dwindle. Read Scoblete's article as he offers the casinos some suggestions on how to bring the players back as well as naming the casino that currently has the best blackjack game in town. This month we've got three great tournament articles written by tournament pros ... don't miss reading them. Monkeysystem provides a complete playing strategy on how to play the new card replacement rule that is popping up in tournaments everywhere. Kenneth Smith offers another great tip on when you should always hit your stiff hand. And The Babe walks the talk when he describes how he used the pair splitting strategy he described in the Dec. issue of BJI in a recent tournament in Sin City. Jerry "Stickman" continues his series on dice control with great information on how to grip the dice (probably the most important skill that must be mastered to become a successful dice controller). Last, but not least, poker pro Bill Burton offers sound advice on how to build your poker bankroll.
Gulf Coast Grinder needed more time to check out the blackjack playing conditions along the Gulf Coast so his report will appear in next month's issue of the BJI.

Henry Tamburin
Editor
If you come across an unfamiliar blackjack term in one of our articles or reports, see our Blackjack Glossary: www.bjinsider.com/questions_glossary.shtml.
Did you know we have all past newsletter issues available in our archives, with online search?
BJI Archives:
www.bjinsider.com/newsletter.shtml#back_issues
BJI Search:
www.bjinsider.com/newsletter.shtml#search
E-mail subscribers can also read each month's issue online at our web site: BJI Issue #109, February 2009.
---
Do you have to be a Math Whiz to win at blackjack?
NO! Speed Count, the easiest advantage-play blackjack method will have you beating the casinos in only a few minutes of practice. It really is that easy... if you ever play blackjack in the casinos, then you are crazy to not learn the Speed Count card counting method. Add blackjack to your game-plan to beat the casinos, and Speed Count is mathematically proven to get you an edge over the casino (read some independent review here: www.goldentouchblackjack.com/reviews.shtml). The following software bundles are currently discounted. Nothing is shipped to you: you get to download the full software version immediately after you purchase and use it right away. Here is the list of features in each bundle:
Last year, the movie 21, featuring Kevin Spacey and Lawrence Fishburne, opened in theaters around the country. Join the ranks of savvy blackjack players who get the edge over the casino, without the need to be a mathematical genious and months of training! These software bundles contain absolutely everything you need to become an expert card counter, with a focused training regime including pass/fail exercises so you know when you are ready to hit the casinos.
Other software discounts from DeepNet Technologies:
Poker Drill Master for Windows (www.PokerDrillMaster.com)
Normally $59.95, yours for only $49.95. Click here to order online (immediate online download, not shipped)
Learn to correctly determine poker pot odds, and make the best decisions at every betting opportunity.
Use the incredibly fast and powerful poker calculator that tells you the winning probabilities and odds for any combination of known and unknown hands and/or board (just like on TV).
Use the powerful poker system editor that lets you select from supplied pre-flop decision methodologies by popular authors and experts, as well as edit or create your own systems.
View the Outs table to quickly find single card outs probabilities and pot odds with one or two cards to go.
Smart Craps Professional for Windows (www.SmartCraps.com)
Normally $129.95, yours for only $95. Click here to order online (immediate online download, not shipped)
Find out if you can control the dice at craps
. Prove whether your dice control skill is working, and what edge you can get.
Includes the Smart Craps simulator, Roll Recorder for Windows and Palm OS, dice set optimizer, advanced betting module, and much more.
Speed Count Database Add-on For Existing Users
Normally $30.00, yours for only $25.00. Click here to order online (immediate online download, not shipped)
Already own our great blackjack training program Blackjack Counter? Then purchase the Speed Count database add-on only. Good for all platforms (Windows, Palm OS, Pocket PC).
More discounts for Palm OS and Pocket PC versions as well: http://www.deepnettech.com/specials1.html.
---
NEW BOOK!
VIDEO POKER FOR THE INTELLIGENT BEGINNER
by Bob Dancer

This book is a how-to-win blueprint for players seeking the fast track to the upper levels of this beatable game. First, you'll master the techniques for finding and identifying the highest-returning games. Then you'll learn how to generate, understand, and implement the computer-perfect strategies that yield the ultimate goal: monetary profit. In addition, Video Poker for the Intelligent Beginner imparts Dancer's professional insight relative to the game's many nuances and related considerations-including in-depth coverage of slot clubs, casino promotions, progressives, team play, scouting, and tournaments. Plus, this is the first book to explain in detail how Dancer's powerful Video Poker for Winners! software can be employed to solve previously unanswered questions about bankroll needs, promotions analysis, and profit potential. 232 pages. Retail price $24.95. Special BJI subscriber's price: only $19.95. Click here to order.
---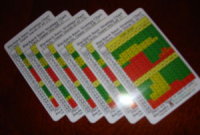 Ken Smith's
BLACKJACKINFO.COM BLACKJACK
BASIC STRATEGY CARDS
Take the optimal basic playing strategy with you when you play blackjack. These new, convenient, credit-card size (3 3/8" X 2 1/8"), color-coded strategy cards allow you to make the perfect play on every hand dealt to you. No more guessing when you use these casino-legal strategy cards. The cards include an innovative format that allows you to use the same card for games with or without the rule that allows you to double down after pair splitting plus they make it easy to see which hands are affected by this important rule. The cards are sold as a set of six consisting of:
1 Deck, Dealer Stands on All 17s
1 Deck, Dealer Hits Soft 17
2 Decks, Dealer Stands on All 17s
2 Decks, Dealer Hits Soft 17
4/6/8 Decks, Dealer Stands on All 17s
4/6/8 Decks, Dealer Hits Soft 17

Special BJI member's price: only $13.95 for set of six cards (plus $5.50 for Priority Shipping). To order, click here.
---
BJI offers...
10% off America's Premier Print gaming Magazine for BJI subscribers! Subscribe online!

| | |
| --- | --- |
| Our Blackjack Tournament Pro and BJI columnist Kenneth R. Smith has written his first book, How to Win More Blackjack Tournaments, which summarizes the blackjack tournament strategies contained in his articles from Blackjack Insider (plus three new articles not available anywhere else!). $14.95 for the e-book, available immediately after purchasing. | |

---
"Joe Pane provides the answers to the 21-question test given to the blackjack pros that attended the Blackjack Ball plus some preliminary information on the new the Nevada Poker League..."
"Is the 6-5 game really that bad? Is there some reasonable (and legal) way to get an edge over some 6 to 5 blackjack games? I decided once and for all to find out..."
Read Pronovost's complete article.

"I have been playing at the Kansas City, Missouri casinos off-and-on for about 13 years. It has been a few years since publishing my last report, and so now it seemed like an appropriate time for an update..."

"AC blackjack games are getting uglier according to Frank Scoblete and his team of reporters. Get the latest scoop on the recent changes to the game, where the better games can still be found, and Scoblete's suggestion to the casino industry on how to bring back their customers to AC..."

Read Scoblete's complete article.

"Krigman explains why six-deck blackjack games are better than eight-deck games for basic strategy players, and what the difference is in dollars and cents..."

Read Krigman's complete article.

"In recent years we've seen the advent of a blackjack tournament format which includes a card replacement option known as a "mulligan" or "power chip." In this article I explain what this is and present a playing strategy on how best to use it to gain an edge over your opponents..."

Read Monkeysystems's complete article.

"Tournament pro Kenneth Smith gives a valuable tip on when you should always hit your stiff hand in tournament play..."

Read Smith's complete article.

"The Babe explains a tournament hand that he recently encountered in which he used the pair splitting rule he described in his article in issue #107 BJI..."

Read The Babe's complete article.

"The most important skill to become a successful dice controller is how to grip the dice before you toss them. Stickman explains the best ways to do this, and how to practice your grip..."

Read Stickman's complete article.

"Poker expert Bill Burton offers tips on how to build your poker bankroll..."

Read Burton's complete article.
©2015, DeepNet Technologies. No material to be copied without express permission of DeepNet Technologies.
This site developed by DeepNet Technologies, Ontario, Canada. Contact webmaster @ bjinsider . com if you have problems.
This site is best viewed in a 800x600 graphics mode, or higher.