(web ads above removed with paid membership. Click here for advertisement rates)


Click here to subscribe to the Blackjack Insider e-newsletter. FREE blackjack advice, sent by e-mail bi-monthly. We never distribute or sell your e-mail address (see our Privacy Policy). The Blackjack Insider is supported by our sponsors, advertisers, and paid-subscribers.
A WORD FROM HENRY
Even though we are in the business of selling gambling information, we think it's important to make our readers aware of the dangers of compulsive gambling. That's why our lead article this month is an interview with Dr. William McCown, one of the foremost researchers in pathological gambling. Dr. McCown is the Dean of the University of Louisiana at Monroe and author of the books, Best Possible Odds, and Treating Gambling Problems. You might think you (or a loved one) don't have a gambling problem, however, you owe it to yourself to read the interview.
This month we have several blackjack reports. JPB reports on double-deck blackjack playing conditions for 13 Las Vegas casinos. His report includes a handy table that lists the name of the casino, number of double-deck games, summary of playing rules, average penetration, lowest table minimums, and other helpful comments. Stu D. Hoss visited the famous Western Hotel and Casino in downtown Las Vegas on the last night it was open (originally opened in 1970 as a bingo parlor), and reports on what he saw and what he found. If you are a Las Vegas history buff, this is a must read. KC Brooks visited the Riviera Casino on the strip to check out their 3-2 single-deck game and interview a blackjack dealer. Check out the photo of the blackjack hand on the layout in the article ... it's hilarious. KC Brooks also has an update on the playing conditions at the Stratosphere and Boulder Station casinos in his report. Riverboat Flyer made his annual pilgrimage to Tunica to celebrate the New Year and he reports on the latest blackjack conditions there. Do you want to know what Shuffle Tracking is all about, and how it works? Then read Vinny DeCarlo's article (Shuffling Tracking 101) for the skinny on this technique that can give you the edge. Basil Nestor gives you food for thought on how to evaluate the worth of a blackjack game (and it isn't what you think). Ralph Stricker takes a nostalgic look at his life in and out of the casinos, including a summary of his three casinos barrings. John Grochowski answers two interesting questions, the first dealing with a comparison of a casino offering a 2-1 payoff for a blackjack vs. paying double on IRS video poker jackpots, and the second on how the house edge is calculated for Let it Ride and Caribbean Stud Poker. Frank Scoblete explains why craps is a riot and gives readers a tip on how to "push the casino" when making a pass line with odds wager. As always, we have a summary of upcoming major blackjack tournaments in casinos across the country courtesy of www.blackjacktournaments.com (I'll be playing in the IP Biloxi tournament on Feb. 25 and 26.)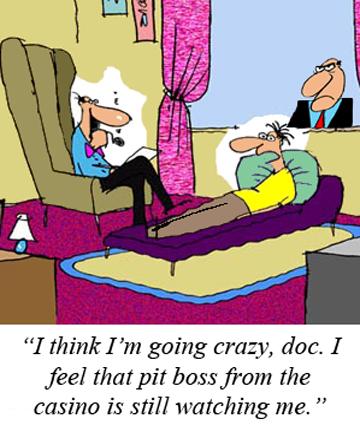 Copyright ©2011, Jerry King, www.jerryking.com. All rights reserved.
PRODUCTS OF THE MONTH
| | |
| --- | --- |
| | Tax Help for Gamblers deals with the innumerable nuances and gray areas of gambling and taxes. It covers all the whys and wherefores of this complex subject, including tax-code specifics, record-keeping, filing your tax return, state-tax considerations, and audits and other tax problems. Whether you're a do-it-yourself tax filer or you use a tax professional, Tax Help for Gamblers is an indispensable guide to staying square with the taxman. Only $21. |
Here's what Anthony Curtis, Max Rubin, and Kevin Blackwood had to say about BJI contributing writer Kenneth Smith's new ebook:
"Ken Smith may be the best blackjack-tournament player in the world and he's elevated the standard of expert play as much as anyone since Stanford Wong. When he writes about strategy, I read it. You should too."Anthony Curtis, Publisher of Las Vegas Advisor and a World-Class Tournament Player.

"Ken Smith is not only one of the world's best tournament players, he is also a great teacher of tournament strategy. I highly recommend his new e-book." Kevin Blackwood, author of "Playing Blackjack Like a Pro."

"This is the best Blackjack Tournament primer EVER! It's concise, easy to read and understand, and it will set the budding recreational blackjack tournament player far, far above the average competitor." Max Rubin, author of "Comp City" and host of the annual Blackjack Ball.
In the Article Spotlight
FROM THE INSIDE by Mr. Pit Boss
This month's great "insider" article appeared in issue #33 of the BJI. It gives you pointers to let you know if you've been fingered by the pit, with tips to prevent this from happening to you.
Henry Tamburin
Editor
If you come across an unfamiliar blackjack term in one of our articles or reports, see our Blackjack Glossary: www.bjinsider.com/questions_glossary.shtml.
Did you know we have all past newsletter issues available in our archives, with online search?
BJI Archives:
www.bjinsider.com/newsletter.shtml#back_issues
BJI Search:
www.bjinsider.com/newsletter.shtml#search
E-mail subscribers can also read each month's issue online at our web site: BJI Issue #145, February 2012.
---
Blackjack Insider e-Newsletter ONLY $19.95!!
Expert articles on blackjack & beatable casino games
12 months of great articles
Blackjack, poker, craps, video poker
Casino reports, tournament strategy, and more
Over 900 past articles available to read
Learn to beat the casinos!
You've Got Heat 1 & 2, e-books
3 months of
Casino Player
Best of BJI
e-book
Blackjack Mentor
training software
3 month BJ21.com
Green Chip forum
Offer not valid on subscription renewals. New member subscriptions only.
---
| | |
| --- | --- |
| | Are you serious about winning at Blackjack and beating the casino? Then start winning today with Speed Count, the world's easiest, mathematically proven advantage method of play for blackjack in casinos. Developed by DeepNet Technologies, makers of advantage gambling training products for over 10 years, this training software package has everything you need to master the Speed Count card counting method. |
This package includes over 100 pages of 15 pass/fail exercises in our Count Master e-book, and includes the complete Golden Touch Blackjack Revolution! e-book by Frank Scoblete as well, which introduced the world to Speed Count.
Available for instant download thatwill have you up and mastering Speed Count in minutes.
Also available on CD, mailed to your home.
NEW! Available for iPhone in the Apple App Store.
---
How to Win EVEN MORE
Blackjack Tournaments
Volume II

by BJI author Kenneth R. Smith

No question about it ... Ken Smith really knows blackjack tournament strategy!
And YOU can learn it too from his new e-book!
Ken Smith's second e-book on tournament blackjack contains more of his winning strategies that have made him one of the best tournament blackjack players in the world. If you've watched any televised blackjack tournaments, or watched (or played against) Ken in a live tournament, you've seen his amazing tournament skills (including his stunning $50,000 first place finish in the premier episode of the Ultimate Blackjack Tournament on CBS.)
His new e-book contains more of Ken's tournament playing and betting strategies that were published in his columns in the Blackjack Insider Newsletter (BJI), plus several new strategies, not previously published in the BJI (all articles are now only available in this e-book). You will learn more tips and tricks that have made Ken the best and most feared tournament player.
How to Win Even More Blackjack Tournaments - Volume II contains five sections:
History of Blackjack Tournaments
Tournament Basics
Tournament Strategies
Advanced Strategies
Alternate Tournament Formats
Some of the topics covered in the book include:
Blackjack Tournaments 101 guide for beginners
How and where Ken first started playing tournaments
Tips on how to bet as the tournament round progresses
How to play against unskilled players
How to size up your opponents
"Bottom of the Ninth" final hand strategies (NEW)
Tips on "chip counting"
Importance of reading the tournament rules
When you should hit your stiff hand
Knowing how to "climb the ladder" for success
Aggressive double down strategies (NEW)
How to play the most dangerous tournament hand
Revisiting the "mythical 12 percent rule"
Strategies for accumulation and no limit tournaments
Learning from a double playoff disaster (NEW)
To read the first 16 pages of the professionally produced e-book, click below:
Sample pages and Table of Contents from
How To Win EVEN MORE Blackjack Tournaments - Volume II
Whether you are a tournament novice or an experienced player, Ken's latest collection of strategies will give you more powerful insights that can elevate your game to the next level.
"My first worst nightmare is to have Ken Smith on my table in a blackjack tournament. My second worst nightmare is to be playing against opponents who have read Ken's e-books."... Henry Tamburin
How to Win Even More Blackjack Tournaments - Volume II is 131 pages with a full cross-referenced index. Once you place your order in our secure store, you can immediately download the e-book to your computer where you can read it, save it, or print a copy (either using your printer or at a local print store such as Kinko's). The e-book is only available in Adobe Acrobat format from our BJI store, and can be read with the free PDF viewer software, available by clicking here.
Also available...
Ken's two e-books in one bundle!

How to Win
Blackjack Tournaments
Volumes I and II
---
Blackjack Mentor for Android

NEW from DeepNet Technologies, publishers of BJI! Now our popular and powerful blackjack basic strategy trainer is available for all Android devices. Includes new automatic action table selection from 144 built-in tables for different blackjack rules (including surrender and ENHC). Buy the best blackjack trainer, from the company that has specialized in advantage gambling training software for over 15 years.

---

Also available for iPhone...
What our customers say...
"This is a great TEACHING progam not a game, learn Basic strategy, counting, different count systems, rules. As they say 'Its all in there'."
"This app is perfect. There's no other app like it."
"An excellent app to improve play. Absolutely no glitches!"
"Glad to see this program on the Droid Platform. Works great!"


Also available for Windows

---
"This will be the last of my gaming psychology related articles for a while. I thought it best to save the best for last, so I have a special treat in store for you. This month and next in this two part article, we'll be talking to Dr. William G. McCown, the author of my favorite book on gambling psychology, Best Possible Odds, as well as several other books on psychology, including his latest, Treating Gambling Problems..."
Read Kneeland's complete article.
"JPB reports on the double-deck playing conditions in 13 Las Vegas casinos..."
Read JPB's complete article.

"So it was on a chilly, windy Las Vegas night when the Western Hotel and Casino closed its doors. The closing had been announced in November of last year, and it met with mild local media interest. I had written the date on my calendar for no particular reason, but as the date approached, I thought as a quasi-Vegas historian and observer of the human condition, I was long overdue to set foot in the property. What better time than its last night..."

Read Hoss' complete article.

"The buzz around town is the single-deck blackjack game at the Riviera that pays 3-2 on blackjacks. So I went to check it out..."

Read Brooks' complete article.

"It was once again time for my annual New Year's Eve holiday trip to Tunica. Here's what I found..."

Read Flyer's complete article.

"Is shuffle tracking really possible? Is Ace sequencing a myth? Is a Happy Marriage possible? Why sure they are. It just takes time, practice, and for the latter, money..."

Read DeCarlo's complete article.

"I live in Los Angeles. Two hours south of me, near San Diego, is Barona Casino. Until recently, Barona had the best public blackjack game in the world, at least judging from the rules. The contest was played with a single deck. Naturals paid 3:2. You could double down on any two cards and after splits. The game allowed late surrender. The dealer hit soft 17 (which was the only negative twist). Overall, pretty nice huh?..."

Read Nestor's complete article.

"While playing casino games is fun, the real maddening frenzy only occurs on a craps table or as Henry Dalton, someone I just met at a craps table, said, "Craps is a riot!"..."

Read Scoblete's complete article.

"Grochowski answers reader's questions about a 2-1 payoff for a blackjack vs. paying double on video poker IRS jackpots, and the house edge in Let it Ride and Caribbean Stud Poker..."

Read Grochowski's complete article.

"The person came in and gave a demonstration of his dealing prowess. I have never seen anyone deal cards like this before. We played about an hour (single deck), and I never won a single hand..."

Read Stricker's complete article.

"Check out the schedule of major blackjack tournaments in February and March by region in our Blackjack Tournament Report courtesy of blackjacktournaments.com..."
©2015, DeepNet Technologies. No material to be copied without express permission of DeepNet Technologies.
This site developed by DeepNet Technologies, Ontario, Canada. Contact webmaster @ bjinsider . com if you have problems.
This site is best viewed in a 800x600 graphics mode, or higher.