(web ads above removed with paid membership. Click here for advertisement rates)


Click here to subscribe to the Blackjack Insider e-newsletter. FREE blackjack advice, sent by e-mail bi-monthly. We never distribute or sell your e-mail address (see our Privacy Policy). The Blackjack Insider is supported by our sponsors, advertisers, and paid-subscribers.
A WORD FROM HENRY
Frank Kneeland concludes his interview with Dr. William McCown, a world-renown expert on compulsive gambling. Part 1 of this interviewed appeared in the February issue of BJI. Do yourself a favor and read both articles because you never know if or when you (or a loved one) could develop a gambling problem. If you are a video poker player, or thinking about becoming one, you should read Dan Paymar's article in which he explains the development and features of his highly rated Optimum Video Poker analysis and training software (including the name of the BJI contributing writer that helped Dan with some of the features that were incorporated in the software). The 2012 Blackjack Ball was recently held in Las Vegas and Joe Pane has the scoop on what went down, including which famous blackjack legend was present (read the article to see who it was). Joe also included in his article the blackjack ball test that was given to the pros in attendance (try answering the questions). In a breakthrough exclusive article, Vinny DeCarlo describes a new casino surveillance network that is in place right now in casinos all across the U.S. catching card counters. Stu D. Hoss ventured to North Las Vegas to report on the playing conditions (and amenities) at the Cannery, Jerry's Nugget, and Lucky Club casinos. Meanwhile, KC Brooks visited the MGM and Tropicana Resorts on the strip, and reports on their playing conditions and amenities. Frank Scoblete summarizes some of the methods (from his recent experience) that Atlantic City casinos use to make card counting an unpleasant activity for counters, and provides an update on playing conditions for all the A.C. casinos. Basel Nestor provides an interesting and different perspective on the Martingale Betting System for non-counters (with a surprising recommendation). Tournament Pro The Babe writes about the Kid, a young player that he met many years ago in the blackjack tournament circuit. Read his article to see who the Kid is (you know him). John Grochowski answers reader's questions dealing with 6-5 blackjack games that are the only game in town, what the house edge is on a combination Place bet on 6 and 8, and when going for the kicker payoff in Double Double and Triple Bonus video poker games is worth it. As usual, we have a summary of upcoming major blackjack tournaments in casinos across the country courtesy of www.blackjacktournaments.com.
I have good news on the great blackjack games in the Pennsylvania casinos. Mark Gruetze reports that the Pennsylvania Gaming Control Board recently voted to make all of the blackjack rules permanent - including S17, 3:2 payments on all blackjacks, and late surrender.Those apply to all Pennsylvania casinos and all blackjack games, low-limit and high-limit alike.The Board also will allow double-deck pitch games (up till now, all blackjack games had to be dealt from a shoe).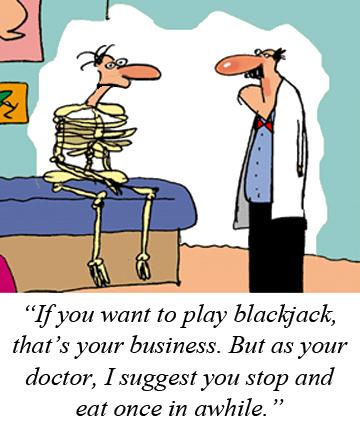 Copyright ©2011, Jerry King, www.jerryking.com. All rights reserved.
PRODUCTS OF THE MONTH
| | |
| --- | --- |
| | I've receives numerous inquiries from players for a video poker training program for McIntosh computers. At last, I found one that works on a Mac (and Windows), and it's an outstanding program. The Optimum Video Poker Version 3 software by video poker expert Dan Paymar is the best video poker analyzer/trainer program available, but most importantly, it offers a wide variety of strategy and bankroll consideration calculations that are not available in other VP training programs. We have added the McIntosh and Windows versions of the software to our BJI catalog and it's available at a discount for BJI subscribers. Click here for more details about this great training software. |
| | |
| --- | --- |
| | Tax Help for Gamblers deals with the innumerable nuances and gray areas of gambling and taxes. It covers all the whys and wherefores of this complex subject, including tax-code specifics, record-keeping, filing your tax return, state-tax considerations, and audits and other tax problems. Whether you're a do-it-yourself tax filer or you use a tax professional, Tax Help for Gamblers is an indispensable guide to staying square with the taxman. Only $21. |
This month's great "insider" article appeared in issue #39 of the BJI. Dan Pronovost studied and reported what the effect the number of table players has on the card counter's expectation.
Henry Tamburin
Editor
If you come across an unfamiliar blackjack term in one of our articles or reports, see our Blackjack Glossary: www.bjinsider.com/questions_glossary.shtml.
Did you know we have all past newsletter issues available in our archives, with online search?
BJI Archives:
www.bjinsider.com/newsletter.shtml#back_issues
BJI Search:
www.bjinsider.com/newsletter.shtml#search
E-mail subscribers can also read each month's issue online at our web site: BJI Issue #146, March 2012.
---
Blackjack Mentor for Android

NEW from DeepNet Technologies, publishers of BJI! Now our popular and powerful blackjack basic strategy trainer is available for all Android devices. Includes new automatic action table selection from 144 built-in tables for different blackjack rules (including surrender and ENHC). Buy the best blackjack trainer, from the company that has specialized in advantage gambling training software for over 15 years.

---

Also available for iPhone...
What our customers say...
"This is a great TEACHING progam not a game, learn Basic strategy, counting, different count systems, rules. As they say 'Its all in there'."
"This app is perfect. There's no other app like it."
"An excellent app to improve play. Absolutely no glitches!"
"Glad to see this program on the Droid Platform. Works great!"


Also available for Windows
---
We've arranged for some amazing discounts on software from DeepNet Technologies, the inventors of Speed Count as taught in the Golden Touch Blackjack courses, and publisher of Blackjack Insider.
Poker Drill Master is a Texas Hold'em poker training program unlike anything else:
Learn to correctly determine poker pot odds, and make the best decisions at every betting opportunity.
Use the incredibly fast and powerful poker calculator that tells you the winning probabilities and odds for any combination of known and unknown hands and/or board (just like on TV!).
Use the powerful poker system editor that lets you select from supplied pre-flop decision methodologies by popular authors and experts, as well as edit or create your own systems.
View the Outs table to quickly find single card outs probabilities and pot odds with one or two cards to go.

Bill Burton, BJI author, poker expert, and author of "How to Get the Edge at Low Limit Hold'em", says this about Poker Drill Master:
"Poker Drill Master is a unique program where you learn through a series of random drills or by analyzing hands that you enter into the calculator. The calculator is the best on the market and is worth the price of the program alone."
Frank Scoblete, BJI author and the world's most popular gaming writer, adds these comments:
"Dan Pronovost [DeepNet Technologies] creates the greatest advantage-play software in the world. If you want to win at casino gambling, this is a great investment."
Poker Drill Master for Windows...
$10 off for BJI Readers...
Only $49.95... click here!
Not ready to purchase? Try it out for free... 100% functional, no strings attached. Click here to download the trial shareware version right now. Also available for Pocket PC handheld computers... click here.
And if this is not enough, here are more winter discounts on blackjack and craps training software from DeepNet Technologies:
Professional Blackjack Software Bundle for Windows
Normally $95, yours for only $85.
Click here to order online (immediate online download, not shipped)
Includes EVERYTHING you need to become an expert card counter,
from basic strategy to advanced card counting.
Includes the Golden Touch Blackjack Revolution! e-book, Count Master training guide, Speed Count, High-Low, Blackjack Counter, Expert, Audit and much more.

Smart Craps Professional for Windows
Normally $129.95, yours for only $119.95. Click here to order online (immediate online download, not shipped)
Find out what dice control is all about!
Prove whether your dice control skill is working, and what edge you can get.
Includes the Smart Craps simulator, Roll Recorder for Windows and Palm OS, dice set optimizer, advanced betting module, and much more.
---
How to Win EVEN MORE
Blackjack Tournaments
Volume II

by BJI author Kenneth R. Smith

No question about it ... Ken Smith really knows blackjack tournament strategy!
And YOU can learn it too from his new e-book!
Ken Smith's second e-book on tournament blackjack contains more of his winning strategies that have made him one of the best tournament blackjack players in the world. If you've watched any televised blackjack tournaments, or watched (or played against) Ken in a live tournament, you've seen his amazing tournament skills (including his stunning $50,000 first place finish in the premier episode of the Ultimate Blackjack Tournament on CBS.)
His new e-book contains more of Ken's tournament playing and betting strategies that were published in his columns in the Blackjack Insider Newsletter (BJI), plus several new strategies, not previously published in the BJI (all articles are now only available in this e-book). You will learn more tips and tricks that have made Ken the best and most feared tournament player.
How to Win Even More Blackjack Tournaments - Volume II contains five sections:
History of Blackjack Tournaments
Tournament Basics
Tournament Strategies
Advanced Strategies
Alternate Tournament Formats
Some of the topics covered in the book include:
Blackjack Tournaments 101 guide for beginners
How and where Ken first started playing tournaments
Tips on how to bet as the tournament round progresses
How to play against unskilled players
How to size up your opponents
"Bottom of the Ninth" final hand strategies (NEW)
Tips on "chip counting"
Importance of reading the tournament rules
When you should hit your stiff hand
Knowing how to "climb the ladder" for success
Aggressive double down strategies (NEW)
How to play the most dangerous tournament hand
Revisiting the "mythical 12 percent rule"
Strategies for accumulation and no limit tournaments
Learning from a double playoff disaster (NEW)
To read the first 16 pages of the professionally produced e-book, click below:
Sample pages and Table of Contents from
How To Win EVEN MORE Blackjack Tournaments - Volume II
Whether you are a tournament novice or an experienced player, Ken's latest collection of strategies will give you more powerful insights that can elevate your game to the next level.
"My first worst nightmare is to have Ken Smith on my table in a blackjack tournament. My second worst nightmare is to be playing against opponents who have read Ken's e-books."... Henry Tamburin
How to Win Even More Blackjack Tournaments - Volume II is 131 pages with a full cross-referenced index. Once you place your order in our secure store, you can immediately download the e-book to your computer where you can read it, save it, or print a copy (either using your printer or at a local print store such as Kinko's). The e-book is only available in Adobe Acrobat format from our BJI store, and can be read with the free PDF viewer software, available by clicking here.
Also available...
Ken's two e-books in one bundle!

How to Win
Blackjack Tournaments
Volumes I and II

---
"This will be the last of my gaming psychology related articles for a while. I thought it best to save the best for last, so I have a special treat in store for you. This month in the second of my two part article, we'll be talking to Dr. William G. McCown, the author of my favorite book on gambling psychology, Best Possible Odds, as well as several other books on psychology, including his latest, Treating Gambling Problems..."
Read Kneeland's complete article.
"Imagine a video poker trainer that actually teaches correct play according to the strategy chart of your choice. Well, you no longer have to imagine it. Optimum Video Poker TM version 3 (OpVP TM3) features an advanced training system never before offered to video poker players. But just how did such a trainer come to be? Here's the story..."
Read Paymar's complete article.

"In the past 10 years that I have attended the Blackjack Ball, I have never witnessed anyone receive a standing ovation from this group of blackjack pros. However, when Max Rubin introduced the guest of honor, every blackjack practitioner in the room stood up and gave him a rousing and well-deserved round of applause, in respect and admiration of this brilliant man..."

Read Pane's complete article.

"Even with all of their amenities, the number one reason to come to the MGM is their excellent playing conditions for the solo blackjack player or team. You won't find your five-dollar double deck game here, but there are plenty of other rules that favor the player..."

Read Brooks' complete article.

"This month I ventured out in North Las Vegas to some places somewhat off the beaten path if you are a Vegas visitor or even a Vegas local, depending on what part of the Valley you call home. I visited three casinos and was surprised at what I found..."

"I was playing two hands and intended to spread a mere one to eight. Midway through the first shoe, I had only once increased my bet to two units. From nowhere the casino shift manager, I believe his name was Michael, came to the table, and watched the game. When that shoe finished, he came to me and said, "Frank, you will only be allowed to bet one hand from now on." Then he whispered to the dealer..."

Read Scobletes' complete article.

"Move over Griffin; watch out advantage players. The Oregon Surveillance Network (OSN) is not just for Oregon casinos anymore..."

Read DeCarlo's complete article.

"Unless you play only beatable games, and never ever wager anything other than a profitable situation, is there harm in using a gambling system when playing for pleasure and not counting..."

Read Nestor's complete article.

"Long, long ago in decades past at one blackjack tournament or another, I ran into this "Kid." He was a player that many of the regulars already seemed to know, and he always had an opinion about some last hand situation that had occurred somewhere at some table. He would sometimes circulate the problem around to all the better players for their opinion on how they would play it..."

Read The Babe's complete article.

"John Grochowski answers reader's questions dealing with 6-5 blackjack games, the house edge on a combination Place bet on 6 and 8, and strategy for Double Double and Triple Bonus video poker games..."

Read Grochowski's complete article.

"Check out the schedule of major blackjack tournaments in March and April by region in our Blackjack Tournament Report courtesy of blackjacktournaments.com..."
©2015, DeepNet Technologies. No material to be copied without express permission of DeepNet Technologies.
This site developed by DeepNet Technologies, Ontario, Canada. Contact webmaster @ bjinsider . com if you have problems.
This site is best viewed in a 800x600 graphics mode, or higher.