(web ads above removed with paid membership. Click here for advertisement rates)


Click here to subscribe to the Blackjack Insider e-newsletter. FREE blackjack advice, sent by e-mail bi-monthly. We never distribute or sell your e-mail address (see our Privacy Policy). The Blackjack Insider is supported by our sponsors, advertisers, and paid-subscribers.
A WORD FROM HENRY
Joe Pane concludes his report on the recent Blackjack Ball by providing the answers to the test questions, naming the pros that made the final table, and describing some of the advantage plays that each finalist had to compete in to determine the ultimate winner of the coveted Grosjean Cup. We received questions from readers on Vinny DeCarlo's article last month on the Oregon Surveillance Network (OSN). This month, Vinny answers those questions about OSN. Sides bets in blackjack are sucker bets. Well, maybe not all side bets. Read KC Brook's article as he explains how to get the edge on one popular side bet. Stu D. Hoss reports on the blackjack playing conditions and amenities at two casinos located on Boulder Highway in Las Vegas (Boulder Station and Arizona Charlies) and another close by in the downtown area (the recently renovated Gold Spike). Basil Nestor has a very interesting article in which he calculated what the chance is for a player to win back an amount of money that he lost (must reading for basic strategy players and card counters). If you want longevity as a card counter, read the tips from Ralph Stricker, who played blackjack professionally for 27 years. John Grochowski answers readers questions about a player's concern over his accuracy with Hi Lo, what playing strategy changes you need to make when you play 9-7-5 vs. 10-7-5 Double Bonus poker, and the reason sports books haven't expanded to different gaming jurisdictions. If you want to learn what a Put bet is in craps, and when you should make it, read Frank Scoblete's article. Ever wonder if the video poker machine that you are playing is gaffed? So did Frank Kneeland, only he did something about it. Lastly, we have our schedule of major blackjack tournaments across the country, courtesy of www.blackjacktournaments.com.
The publishers of Blackjack Insider, DeepNet Technologies, have just released their popular professional blackjack training software for Android mobile devices and tablets: Blackjack Expert for Android. There focused drills and training play modes are a great way to master blackjack card counting on your Android or iPhone mobile device. The software includes Speed Count, High-Low and other blackjack card counting systems, as well as the ability to edit your own. DeepNet has been producing quality advantage gambling software for Windows and mobile phones for over 10 years!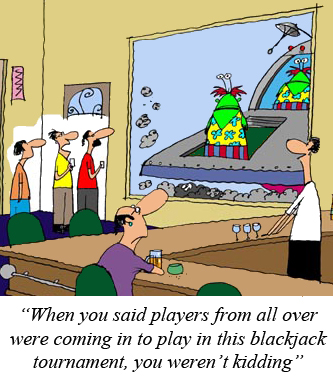 Copyright ©2012, Jerry King, www.jerryking.com. All rights reserved.
This month's great "insider" article appeared in issue #39 of the BJI. Blackjack expert Fed Renzey explained how to "fudge" your index number for unbalanced counting systems to gain more accuracy.
This training DVD will change the way you play blackjack, and show you how to get the edge over the casinos. Watch as a professional blackjack dealer deals the cards on a blackjack table to Dominic LoRiggio and Henry Tamburin. They use the Optimum Playing Strategy to play their hands, and the Speed Count to vary their bets, while Frank Scoblete explains both techniques. For details, click here.
Henry Tamburin
Editor
If you come across an unfamiliar blackjack term in one of our articles or reports, see our Blackjack Glossary: www.bjinsider.com/questions_glossary.shtml.
Did you know we have all past newsletter issues available in our archives, with online search?
BJI Archives:
www.bjinsider.com/newsletter.shtml#back_issues
BJI Search:
www.bjinsider.com/newsletter.shtml#search
E-mail subscribers can also read each month's issue online at our web site: BJI Issue #147, April 2012.
---
Blackjack Counter+Expert for Android

NEW from DeepNet Technologies! Play Blackjack with advanced casino options AND learn to count cards at the same time! Blackjack Expert for Android teaches you card counting techniques while playing against the computer, or using one its many training modes. This is a professional blackjack training package, containing everything you need to go from beginner to seasoned card counting expert.
Contains all features from Mentor, Counter and Expert
in one App for Android!
Play Blackjack with advanced casino options AND learn to count cards at the same time! Blackjack Expert teaches you card counting techniques while playing against the computer, or using one its many training modes. This is a professional blackjack training package, containing everything you need to go from beginner to seasoned card counting expert.
Blackjack Expert is a game simulator and testing tool combined in one easy-to-use program. As you play blackjack, your decisions are tested: actions, index plays, bet sizes, and insurance. The software is packed with advanced features for mastering every aspect of Blackjack card counting. Whether you're just looking for a great Blackjack game or looking to learn card counting techniques, Blackjack Expert is the fastest way to improve your game. Card Counting can give you a statistical edge over the casino.
Blackjack Expert for Android contains all of the powerful blackjack training features and drills our users have come to enjoy and expect in our products. The user interface has been greatly enhanced and simplified to leverage the great features of the Android, making mastering card counting strategies on the go even easier!
The complete Speed Count system is included with the base application. Or, purchase the complete HighLow count system and others as In-App purchase right inside the software (Add-ons mode), installed immediately into the program.
The new Rules mode lets you select the game rules and count system, and a matching action table and index set are selected automatically.
Create and edit your own count systems from Rules mode. All the powerful high-end features you've come expect from our products are available for Android.
144 built-in basic strategy tables for non card counters, selected automatically as you change the rules.
Extensive, context-sensitive help built right into the application. Supplementary documentation on card counting will help novices learn what it is all about. No need to purchase anything else to master card counting!
Simplified settings for Count mode to configure deck counting drills, while all options are still available for advanced users.

Also available... Blackjack Mentor for Android and Blackjack Counter+Expert for iPhone.
What our customers say...
"This is a great TEACHING progam not a game, learn Basic strategy, counting, different count systems, rules. As they say 'Its all in there'."
"This app is perfect. There's no other app like it."
"An excellent app to improve play. Absolutely no glitches!"
"Glad to see this program on the Droid Platform. Works great!"


Also available for Windows
---
How to Win EVEN MORE
Blackjack Tournaments
Volume II

by BJI author Kenneth R. Smith

No question about it ... Ken Smith really knows blackjack tournament strategy!
And YOU can learn it too from his new e-book!
Ken Smith's second e-book on tournament blackjack contains more of his winning strategies that have made him one of the best tournament blackjack players in the world. If you've watched any televised blackjack tournaments, or watched (or played against) Ken in a live tournament, you've seen his amazing tournament skills (including his stunning $50,000 first place finish in the premier episode of the Ultimate Blackjack Tournament on CBS.)
His new e-book contains more of Ken's tournament playing and betting strategies that were published in his columns in the Blackjack Insider Newsletter (BJI), plus several new strategies, not previously published in the BJI (all articles are now only available in this e-book). You will learn more tips and tricks that have made Ken the best and most feared tournament player.
How to Win Even More Blackjack Tournaments - Volume II contains five sections:
History of Blackjack Tournaments
Tournament Basics
Tournament Strategies
Advanced Strategies
Alternate Tournament Formats
Some of the topics covered in the book include:
Blackjack Tournaments 101 guide for beginners
How and where Ken first started playing tournaments
Tips on how to bet as the tournament round progresses
How to play against unskilled players
How to size up your opponents
"Bottom of the Ninth" final hand strategies (NEW)
Tips on "chip counting"
Importance of reading the tournament rules
When you should hit your stiff hand
Knowing how to "climb the ladder" for success
Aggressive double down strategies (NEW)
How to play the most dangerous tournament hand
Revisiting the "mythical 12 percent rule"
Strategies for accumulation and no limit tournaments
Learning from a double playoff disaster (NEW)
To read the first 16 pages of the professionally produced e-book, click below:
Sample pages and Table of Contents from
How To Win EVEN MORE Blackjack Tournaments - Volume II
Whether you are a tournament novice or an experienced player, Ken's latest collection of strategies will give you more powerful insights that can elevate your game to the next level.
"My first worst nightmare is to have Ken Smith on my table in a blackjack tournament. My second worst nightmare is to be playing against opponents who have read Ken's e-books."... Henry Tamburin
How to Win Even More Blackjack Tournaments - Volume II is 131 pages with a full cross-referenced index. Once you place your order in our secure store, you can immediately download the e-book to your computer where you can read it, save it, or print a copy (either using your printer or at a local print store such as Kinko's). The e-book is only available in Adobe Acrobat format from our BJI store, and can be read with the free PDF viewer software, available by clicking here.
Also available...
Ken's two e-books in one bundle!

How to Win
Blackjack Tournaments
Volumes I and II
---
Blackjack Insider e-Newsletter ONLY $19.95!!
Expert articles on blackjack & beatable casino games
12 months of great articles
Blackjack, poker, craps, video poker
Casino reports, tournament strategy, and more
Over 900 past articles available to read
Learn to beat the casinos!
You've Got Heat 1 & 2, e-books
3 months of
Casino Player
Best of BJI
e-book
Blackjack Mentor
training software
3 month BJ21.com
Green Chip forum
Offer not valid on subscription renewals. New member subscriptions only.

---
"When the results were announced at the Blackjack Ball that Ian Anderson was this year's inductee (to Blackjack Hall of Fame), Anthony Curtis had only one thing to say (and usually when Anthony speaks, everyone listens). He said, and I quote..."
"Seems that I struck a nerve with my article on the OSN last month and some folks want to know more about it. Well, I've never been one for leaving people in the dark so I'm going to entertain the questions that were sent to BJI about it..."
Read DeCarlo's complete article.

"The house edge on the Lucky Ladies (LL's) is huge off the top, in the 25 percent range, but like blackjack, LL's can be beaten with card counting. Here's how to get the edge..."

Read Brooks's complete article.

"This month's adventures led me to the Boulder Strip for the first of a two-part look at the casinos and playing conditions at the properties that call Boulder Highway home..."

Read Hoss' complete article.

"You're down by ten bets. It took an hour and you played sixty hands. What are your chances of coming back by the end of the session? What are your chances of winning those ten bets back at some point in the next ten sessions? The odds may surprise you..."

Read Nestor's complete article.

"During my career as a professional blackjack player, I met some of the best players in the country. However, they all had one thing in common: They were "barred" from playing blackjack in most casinos. Here's some tips on how to do "due diligence" to prolong your playing career..."

Read Stricker's complete article.

"Grochowski answers questions on a player's accuracy with the Hi Lo counting system, changing your playing strategy with 9-7-5 Double Bonus video poker, and why sports books haven't expanded as rapidly as casinos have across the country..."

Read Grochowski's complete article.

"Some craps bets are little known - even among avid craps enthusiasts. One such bet is called the Put bet. Here are the details on when to make this bet and when not to..."

Read Scoblete's complete article.

"I wasn't sure video poker machines were truly random. I wasn't sure that math was all there was to gambling. I wasn't sure of many other things, other than how much I was unsure..."

Read The Kneeland's complete article.

"Check out the schedule of major blackjack tournaments in April and May by region in our Blackjack Tournament Report courtesy of blackjacktournaments.com..."
©2015, DeepNet Technologies. No material to be copied without express permission of DeepNet Technologies.
This site developed by DeepNet Technologies, Ontario, Canada. Contact webmaster @ bjinsider . com if you have problems.
This site is best viewed in a 800x600 graphics mode, or higher.