(web ads above removed with paid membership. Click here for advertisement rates)


Click here to subscribe to the Blackjack Insider e-newsletter. FREE blackjack advice, sent by e-mail bi-monthly. We never distribute or sell your e-mail address (see our Privacy Policy). The Blackjack Insider is supported by our sponsors, advertisers, and paid-subscribers.
A WORD FROM HENRY
We begin our first issue of the New Year with an excerpt from Bill ("The GameMaster") Channel's excellent new book, "The (Darn Near) Complete Book of Winning at Blackjack" on understanding risk when you play blackjack (this is a great, concise, explanation of risk). Channel wrote several excellent articles for the BJI, and one of them, on how to beat the double-deck game, is in this issue. Vinny DeCarlo took on the task of summarizing all the casino scams he was involved in during his long illustrious career in casino surveillance (some of the scams are hard to believe). Ever wonder why you keep losing, when you think you are playing skillfully? Read Basil Nestor's article for some tips that will help you sort out the facts. Mark Gruetze penned an interesting article on the new yield-management software that is being used by one casino in Pennsylvania to help determine when to open or close table games, when to raise or lower table minimums, and when to schedule dealers and other floor workers (check out the hands per hour statistic for a player playing alone). We have blackjack reports from popular locals casinos located south of Las Vegas in Henderson (Green Valley Ranch and Fiesta Henderson casinos with very good double-deck games by KC Brooks), and the Aliante casino in North Las Vegas, which had a recent management change (by Stu D. Hoss). Frank Scoblete shares his thoughts on what could be done to get the casinos in AC out of their doldrums. In addition, his Atlantic City Blackjack Report contains a very detail report on the new Revel Casino by blackjack reporter Herbert. This month's Casino Answer Man column (John Grochowski) has some interesting questions dealing with the effects that high tech blackjack tables have on player's comps, the interesting new video poker game called Winning Streak, and "secondary decision" programs that could control the losing results on video poker and slot machines. Last, but not least, we have the schedule of upcoming blackjack tournaments courtesy of blackjacktournaments.com.
Have a Happy and Prosperous New Year!
Henry Tamburin
Editor
PRODUCT OF THE MONTH
THE (DARN NEAR) COMPLETE BOOK OF WINNING AT BLACKJACK by Bill ("THE GameMaster") Channels

Bill Channels is a contributing writer to BJI and host of the popular web site www.gamemasteronline.com. Channel's new book is the next-best thing to having him sit with you at the table. He will help you develop the skills you need to give you a long-term edge at the game. The lessons in the book will take you systematically through the process of learning how to play each hand properly, how to count cards, how much to bet, when to deviate from basic strategy, team play, and other techniques that advantage players use to extract money from casinos. Contains separate sections on how to beat the single-deck game, double-deck game, and the multi-deck games. The book also contains excellent advice on tournament playing strategy (the author is a tournament expert). I've known Bill from my playing days in Atlantic City and his new book is an accurate, complete winning guide for beginners and experience players. Bill is an excellent teacher and I highly recommend his book (available at a discount at our BJI store). (In this issue of BJI, read an excerpt from his book on Understanding Risk, and his Spotlight Article on Double-Deck Blackjack.)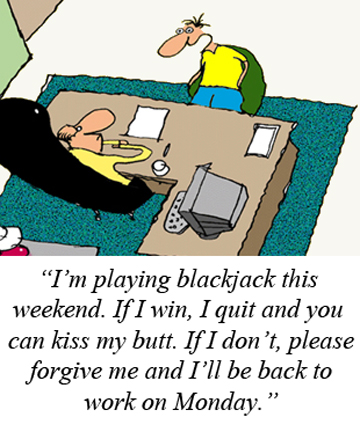 Copyright ©2012, Jerry King, www.jerryking.com. All rights reserved.
This article on how to beat the double-deck game appeared in issue #95 of the BJI. Written by Bill ("The GameMaster") Channels, the author of the new book THE (DARN NEAR) COMPLETE BOOK OF WINNING AT BLACKJACK. Click here to read the article.
If you come across an unfamiliar blackjack term in one of our articles or reports, see our Blackjack Glossary: www.bjinsider.com/questions_glossary.shtml.
Did you know we have all past newsletter issues available in our archives, with online search?
BJI Archives:
www.bjinsider.com/newsletter.shtml#back_issues
BJI Search:
www.bjinsider.com/newsletter.shtml#search
E-mail subscribers can also read each month's issue online at our web site: BJI Issue #156, January 2013.
---
Blackjack Counter+Expert
for Android and iPhone

Contains all features from Mentor, Counter and Expert
in one App for Android and iPhone!
Play Blackjack with advanced casino options AND learn to count cards at the same time! Blackjack Expert teaches you card counting techniques while playing against the computer, or using one its many training modes. This is a professional blackjack training package, containing everything you need to go from beginner to seasoned card counting expert.
Blackjack Expert is a game simulator and testing tool combined in one easy-to-use program. As you play blackjack, your decisions are tested: actions, index plays, bet sizes, and insurance. The software is packed with advanced features for mastering every aspect of Blackjack card counting. Whether you're just looking for a great Blackjack game or looking to learn card counting techniques, Blackjack Expert is the fastest way to improve your game. Card Counting can give you a statistical edge over the casino.
Blackjack Expert contains all of the powerful blackjack training features and drills our users have come to enjoy and expect in our products. The user interface has been greatly enhanced and simplified to leverage the great features of the Android and iPhone, making mastering card counting strategies on the go even easier!
The complete Speed Count system is included with the base application. Or, purchase the complete HighLow count system and others as In-App purchase right inside the software (Add-ons mode), installed immediately into the program.
The new Rules mode lets you select the game rules and count system, and a matching action table and index set are selected automatically.
Create and edit your own count systems from Rules mode. All the powerful high-end features you've come expect from our products are available for Android and iPhone.
144 built-in basic strategy tables for non card counters, selected automatically as you change the rules.
Extensive, context-sensitive help built right into the application. Supplementary documentation on card counting will help novices learn what it is all about. No need to purchase anything else to master card counting!
Simplified settings for Count mode to configure deck counting drills, while all options are still available for advanced users.


Also available... Blackjack Mentor for Android and Blackjack Mentor for iPhone.
What our customers say...
"This is a great TEACHING progam not a game, learn Basic strategy, counting, different count systems, rules. As they say 'Its all in there'."
"This app is perfect. There's no other app like it."
"An excellent app to improve play. Absolutely no glitches!"
"Glad to see this program on the Droid Platform. Works great!"


Also available for Windows
---
We've arranged for an amazing discount on poker training software from DeepNet Technologies, the inventors of Speed Count, and publisher of Blackjack Insider.
Poker Drill Master is a Texas Hold'em poker training program unlike anything else:
Learn to correctly determine poker pot odds, and make the best decisions at every betting opportunity.
Use the incredibly fast and powerful poker calculator that tells you the winning probabilities and odds for any combination of known and unknown hands and/or board (just like on TV!).
Use the powerful poker system editor that lets you select from supplied pre-flop decision methodologies by popular authors and experts, as well as edit or create your own systems.
View the Outs table to quickly find single card outs probabilities and pot odds with one or two cards to go.

Bill Burton, BJI author, poker expert, and author of "How to Get the Edge at Low Limit Hold'em", says this about Poker Drill Master:
"Poker Drill Master is a unique program where you learn through a series of random drills or by analyzing hands that you enter into the calculator. The calculator is the best on the market and is worth the price of the program alone."
Frank Scoblete, BJI author and the world's most popular gaming writer, adds these comments:
"Dan Pronovost [DeepNet Technologies] creates the greatest advantage-play software in the world. If you want to win at casino gambling, this is a great investment."
Poker Drill Master for Windows...
50% off for BJI Readers until Aug. 31...
Only $59.95 $29.95... click here!
Not ready to purchase? Try it out for free... 100% functional, no strings attached. Click here to download the trial shareware version right now.
---


---
"An excerpt on risk in blackjack from Bill Channel's excellent new book, The (Darn Near) Complete Book of Winning at Blackjack..."
Read Channel's complete article.
"In his two-part article, Vinny DeCarlo summarizes 15 unbelievable (but true) casino scams..."
Read DeCarlo's complete article.

"Let's say you have a net loss during a session. Does that mean there is a leak in your game, or is it just bad luck?..."

Read Nestor's complete article.

"Some casinos are turning to "yield management" software to help determine when to open or close table games, when to raise or lower table minimums, and when to schedule dealers and other floor workers. Here is how it works..."

Read Gruetze's complete article.

"This report covers two locals casinos located southwest of Las Vegas (in nearby Henderson, NV) that offer very good blackjack games..."

Read Brooks' complete article.

"Aliante Station is no more. Well it is, but it isn't. It has a new name and new ownership that went into effect Nov. 1. If you want to know more, read on..."

Read Hoss's complete article.

"Frank Scoblete offers some suggestions on how the A.C. casinos can decrease their decline, and his team of reporters gives the latest updates on playing conditions in each casino..."

Read Scobletes' complete article.

"A detailed report on the new Revel Casino and Resort in Atlantic City..."

Read Herbert's complete article (inside the Scoblete AC report).

"John Grochowski answers reader's questions on card-reading shoes and RFID chips, the new Winning Streak video poker game, and whether payouts from video poker machines strictly controlled by a program other than the RNG..."

Read Grochowski's complete article.

"Check out the schedule of upcoming major blackjack tournaments by region in our Blackjack Tournament Report courtesy of blackjacktournaments.com..."

Read the complete tournament schedule.
©2015, DeepNet Technologies. No material to be copied without express permission of DeepNet Technologies.
This site developed by DeepNet Technologies, Ontario, Canada. Contact webmaster @ bjinsider . com if you have problems.
This site is best viewed in a 800x600 graphics mode, or higher.