(web ads above removed with paid membership. Click here for advertisement rates)


Click here to subscribe to the Blackjack Insider e-newsletter. FREE blackjack advice, sent by e-mail bi-monthly. We never distribute or sell your e-mail address (see our Privacy Policy). The Blackjack Insider is supported by our sponsors, advertisers, and paid-subscribers.
A WORD FROM HENRY
Note: We've added a great new product to our online store, BJI contributing writer Kenneth Smith's new Advanced Strategy Cards For Card Counters. If you are a card counter, or thinking of becoming one, you need to read Ken's article in this issue (and next month) for the details on what these new strategy cards entail, and how to use them on the tables (or for practicing card counting at home). Ken spent the better part of two months developing the index numbers for the cards. (Trust me, you won't find a more accurate set of indices based on the playing rules and the number of the decks, anywhere.) These cards are a winner and we have them on sale!
This month's issue of BJI also includes Part 2 of my 2013 Blackjack Ball report with the answers to the written test (check how many you answered correctly), as well as a summary of the card-counting competition, and the name of the pro who won the coveted Grosjean Cup. In addition, we have an article written by Loudon Ofton, a relatively new card counter, about his experience attending the Blackjack Ball. We have several blackjack reports this month, including the four Las Vegas downtown casinos Golden Nugget, Main Street Station, Plaza, and the Vegas Club (by KC Brooks); the Fiesta Henderson, Green Valley Ranch, and M casinos located south of the Strip (by Stu D. Hoss); a Tunica Trip report (by Mark Gruetze); and a detailed and entertaining one-day odyssey to every casino in Atlantic City (by Frank Scoblete). We also have an excerpt from Nathaniel Tilton's excellent book, The Blackjack Life, which details a team trip to Foxwoods casino in Connecticut. Basil Nestor explains why third base has an extra advantage over first base for a reason you may not have thought about. Last, but not least, we have the schedule of several upcoming blackjack tournaments courtesy of blackjacktournaments.com. (More tournaments than there has been recently.)
Reader's Feedback on Playing Conditions
Beginning with this issue, we are going to publish comments we receive from readers about good (and not so good) playing conditions that they have observed or experienced in casinos. (Please email your comments to HTamburin@aol.com.)
T.L. visited the Casino Queen in East St. Louis and reported that, in many ways, he never liked this casino because the dealers are not very friendly and worst of all, the penetration was "terrible." (Close to half of a six-deck shoe was cut off.) However, on a recent visit, the dealers were still not very friendly, but the penetration had suddenly improved. (Some time within the past 60 days). The pen varies by dealer, but only 1 - 1 1/2 decks are now cut off. ("I checked this on multiple tables, and the better conditions appear at all the tables. So...something has changed.")
Henry Tamburin
Editor
PRODUCT OF THE MONTH
| | |
| --- | --- |
| | This set of 12 strategy cards contains not only an accurate basic strategy but also accurate indices for the Hi Lo counting system. This an excellent tool for anyone thinking about becoming a card counter (use the cards to learn the index numbers), and for current card counters, who want accurate indices based on the number of decks and the playing rules (you'll have the index numbers at your fingertips when you play). You can read about these new strategy cards in the article by Ken Smith in this issue of BJI. We've added these new strategy cards to our BJI online store and discounted them. This is a "must have product" for serious blackjack players. |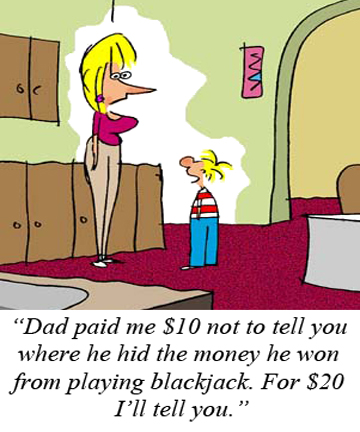 Copyright ©2013, Jerry King, www.jerryking.com. All rights reserved.
This article by Fred Renzey appeared in issue #77 and it offers practical advice for card counters on what bet spreads to use for multi- and single/double deck-games with tips on when to play two spots.
If you come across an unfamiliar blackjack term in one of our articles or reports, see our Blackjack Glossary: www.bjinsider.com/questions_glossary.shtml.
Did you know we have all past newsletter issues available in our archives, with online search?
BJI Archives:
www.bjinsider.com/newsletter.shtml#back_issues
BJI Search:
www.bjinsider.com/newsletter.shtml#search
E-mail subscribers can also read each month's issue online at our web site: BJI Issue #159, April 2013.
---
Blackjack Counter+Expert
for Android and iPhone

Contains all features from Mentor, Counter and Expert
in one App for Android and iPhone!
Play Blackjack with advanced casino options AND learn to count cards at the same time! Blackjack Expert teaches you card counting techniques while playing against the computer, or using one its many training modes. This is a professional blackjack training package, containing everything you need to go from beginner to seasoned card counting expert.
Blackjack Expert is a game simulator and testing tool combined in one easy-to-use program. As you play blackjack, your decisions are tested: actions, index plays, bet sizes, and insurance. The software is packed with advanced features for mastering every aspect of Blackjack card counting. Whether you're just looking for a great Blackjack game or looking to learn card counting techniques, Blackjack Expert is the fastest way to improve your game. Card Counting can give you a statistical edge over the casino.
Blackjack Expert contains all of the powerful blackjack training features and drills our users have come to enjoy and expect in our products. The user interface has been greatly enhanced and simplified to leverage the great features of the Android and iPhone, making mastering card counting strategies on the go even easier!
The complete Speed Count system is included with the base application. Or, purchase the complete HighLow count system and others as In-App purchase right inside the software (Add-ons mode), installed immediately into the program.
The new Rules mode lets you select the game rules and count system, and a matching action table and index set are selected automatically.
Create and edit your own count systems from Rules mode. All the powerful high-end features you've come expect from our products are available for Android and iPhone.
144 built-in basic strategy tables for non card counters, selected automatically as you change the rules.
Extensive, context-sensitive help built right into the application. Supplementary documentation on card counting will help novices learn what it is all about. No need to purchase anything else to master card counting!
Simplified settings for Count mode to configure deck counting drills, while all options are still available for advanced users.


Also available... Blackjack Mentor for Android and Blackjack Mentor for iPhone.
What our customers say...
"This is a great TEACHING progam not a game, learn Basic strategy, counting, different count systems, rules. As they say 'Its all in there'."
"This app is perfect. There's no other app like it."
"An excellent app to improve play. Absolutely no glitches!"
"Glad to see this program on the Droid Platform. Works great!"


Also available for Windows
---
Do you have to be a Math Whiz to win at blackjack?
NO! Speed Count, the easiest advantage-play blackjack method will have you beating the casinos in only a few minutes of practice. It really is that easy... if you ever play blackjack in the casinos, then you are crazy to not learn the Speed Count card counting method. Add blackjack to your game-plan to beat the casinos, and Speed Count is mathematically proven to get you an edge over the casino. The following software bundles are currently discounted. Nothing is shipped to you: you get to download the full software version immediately after you purchase and use it right away. Here is the list of features in each bundle:
Join the ranks of savvy blackjack players who get the edge over the casino, without the need to be a mathematical genious and months of training! These software bundles contain absolutely everything you need to become an expert card counter, with a focused training regime including pass/fail exercises so you know when you are ready to hit the casinos.
Other software discounts from DeepNet Technologies:
Smart Craps Professional for Windows (www.SmartCraps.com)
Normally $129.95, yours for only $119.95. Click here to order online (immediate online download, not shipped)
Find out if you can control the dice at craps
. Prove whether your dice control skill is working, and what edge you can get.
Includes the Smart Craps simulator, Roll Recorder for Windows and Palm OS, dice set optimizer, advanced betting module, and much more.
Poker Drill Master for Windows (www.PokerDrillMaster.com)
Normally $59.95, yours for only $49.95. Click here to order online (immediate online download, not shipped)
Learn to correctly determine poker pot odds, and make the best decisions at every betting opportunity.
Use the incredibly fast and powerful poker calculator that tells you the winning probabilities and odds for any combination of known and unknown hands and/or board (just like on TV).
Use the powerful poker system editor that lets you select from supplied pre-flop decision methodologies by popular authors and experts, as well as edit or create your own systems.
View the Outs table to quickly find single card outs probabilities and pot odds with one or two cards to go.
---

---

---
"These new Advanced Blackjack Strategy Cards focus on six different rule sets and provides an optimized basic strategy for each of the games, just like our popular basic strategy set. However, that's just the beginning..."
Read Smith's complete article.
"Part 2 of my report on the 2013 Blackjack Ball contains the answers to the written test, a brief description of some of the card counting contests, and who won the coveted Grosjean Cup..."
Read Tamburin's complete article.

"You have no idea how huge this is to a player to be in the company of these famous blackjack celebrities. These are the men who invented, improved, or handed down card counting directly to me (and just about everyone else in the room)..."

Read Ofton's complete article.

"In this, the last of a three-part report on the blackjack playing conditions in downtown Las Vegas, we will visit The Golden Nugget, Main Street Station, Plaza, and finally the Las Vegas Club..."

Read Brooks' complete article.

"On Saint Patrick's Day, instead of pondering the plight of post-modern civilization over Guinness or Irish whisky, listening to U2 cover bands in a bar filled with auburn-haired lovelies in short green skirts, I instead found myself deep in the Southern end of the Las Vegas Valley..."

"You gotta love going to Tunica. It's an attractive spot for low-rollers, with $10 DD blackjack, decent video poker pay tables, and easy comps. This includes..."

Read Gruetze's complete article.

"Frank Scoblete and Jerry "Stickman" visit all the casinos in AC in a one-day Odyssey. Their adventure begins at a hotel room in Philadelphia where..."

Read Scoblete's complete article.

"Tilton describes a team play that he pulled off at the Foxwoods Resort and Casino..."

Read Tilton's complete article.

"From a viewpoint of pure probability, when measuring the chances of receiving a particular card in a particular seat, any blackjack seat is as good as any other. Period. This is true even when you're counting cards. However, third base (or any position later than first base) is actually statistically preferable. How do those facts fit together? Actually, quite neatly..."

Read Nestor's complete article.

"Check out the schedule of upcoming major blackjack tournaments by region in our Blackjack Tournament Report courtesy of blackjacktournaments.com..."

Read the complete tournament schedule.
©2015, DeepNet Technologies. No material to be copied without express permission of DeepNet Technologies.
This site developed by DeepNet Technologies, Ontario, Canada. Contact webmaster @ bjinsider . com if you have problems.
This site is best viewed in a 800x600 graphics mode, or higher.