(web ads above removed with paid membership. Click here for advertisement rates)


Click here to subscribe to the Blackjack Insider e-newsletter. FREE blackjack advice, sent by e-mail bi-monthly. We never distribute or sell your e-mail address (see our Privacy Policy). The Blackjack Insider is supported by our sponsors, advertisers, and paid-subscribers.
A WORD FROM HENRY
It's no secret that Pennsylvania has some of the best blackjack games in the country. Don't miss reading Mark Gruetze's detailed run down on the games in virtually every casino in Pennsylvania (you won't find this information elsewhere). Wait till you read Vinny DeCarlo's true story about casinos that offered an unbelievable perk to blackjack players that ended up costing them big time. Ted Salveson, an avid scratch golfer and skilled blackjack player, wrote a report on a recent trip he took to the five MGM properties that dominate the corner of Tropicana Ave. and the Strip in Las Vegas. You'll also find blackjack reports covering casinos in California and Mesquite, NV (by KC Brooks), the Red Rock, Santa Fe, and Texas Station casinos in Las Vegas (Stu D. Hoss), and Atlantic City (Frank Scoblete). (You might also enjoy reading Scoblete's rant on card counters being "narrow-minded, arrogant, grits.") John Grochowski answers readers' questions on determining the house edge on video blackjack games, skilled-based slots, and whether coin payoffs on video poker machines are making a comeback. Eliot Jacobson analyzes the "In Between" side-bet in blackjack. The Fire Bet in craps is made by many crapshooters ... read Jerry "Stickmans" analysis of it. Last, but not least, we have a listing of upcoming blackjack tournaments, courtesy of blackjacktournaments.com.
Note: Send us your feedback on playing conditions (good and bad) that you observe when you play blackjack and we'll publish them in the BJI in our new Reader's Feedback on Playing Conditions section. Send to HTamburin@aol.com.
Henry Tamburin
Editor
PRODUCT OF THE MONTH
| | |
| --- | --- |
| | This set of 12 strategy cards contains not only an accurate basic strategy but also accurate indices for the Hi Lo counting system. This an excellent tool for anyone thinking about becoming a card counter (use the cards to learn the index numbers), and for current card counters, who want accurate indices based on the number of decks and the playing rules (you'll have the index numbers at your fingertips when you play). You can read about these new strategy cards in the article by Ken Smith in this issue of BJI. We've added these new strategy cards to our BJI online store and discounted them. This is a "must have product" for serious blackjack players. |
Why Purchase a Membership to BJI?
When you purchase a BJI membership (for only $19.95 per year), you get to read all the members-only articles and reports in every issue of the BJI. Here is a sample of the content of some of the must-read, members-only articles that appeared in the past 12 months (which you can't get in any other publication):
How to incorporate "Grifter's Gambit" into small-team play .
Test Questions and answers from the annual gathering of blackjack pros ("Blackjack Ball") .
Review of the playing conditions for all the double-deck games in Las Vegas (Strip, Downtown, and Locals) .
Tips on how to incorporate comps with your card counting .
A summary of 15 unbelievable scams perpetrated by casino players (and employees) .
Five fresh new ways to increase your profits at card counting

.
In addition, our team of paid reporters visited over 60 casinos and wrote detailed members-only reports on the playing conditions that they observed (and in many cases, what other non-gaming amenities that each casino offers players). This includes casinos in these cities/areas: Las Vegas, Reno, North Las Vegas, Carson City, Tunica, Biloxi, Pennsylvania, Kansas City, Minneapolis, St. Louis, I-35 corridor from Kansas to Minnesota, West Virgina, Wisconsin, and Wheeling Island. You can visit our Reports Page for a complete and updated list of the latest casino conditions.
Ponder this... there are several thousand blackjack games in Las Vegas alone. Many of them are lousy games for card counters (and casual players) but some of them are excellent, profitable games. How much would you pay to know which casinos offer the best blackjack games? With a Blackjack Insider Membership, this valuable information will come to you each month. For example, over the past 12 months, our paid reporters scouted and reported on playing conditions in the following Las Vegas area casinos, noting which casinos offer great blackjack games (and which casinos to avoid): Orleans, Palms, Mirage, TI, Palazzo, Venetian, The Quad, Harrah's, Golden Nugget, Bellagio, Silverton, El Cortez, Hard Rock, Fiesta Henderson, Green Valley Ranch, Aliante, Binion's, California, D Las Vegas, El Cortez, M, Rampart, Suncoast, Red Rock, Stratosphere, Palace Station, Four Queens, Freemont, Gold Spike, Golden Gate, Silverton, Las Vegas Alamo, Main Street Station, Plaza, Vegas Club, and Silver Sevens.
Nowadays many blackjack players also play video poker for profit. We also have that covered in the BJI with monthly articles on video poker strategies (also on craps).
The cost of a BJI membership is only $19.95 per year (12 monthly issues delivered to your in box). That's only 11 cents per article/report (members and non-members articles). And when you purchase a Membership, we will send you over $50 worth of FREE products (not junk ... useful products that will help you become a better player. Click here for the list). Your BJI Membership also allows you access to over 1000 articles/reports in our archived newsletters (with a search engine that easily allows you to search for any topic. That includes the above five must-read articles highlighted above).
What are you waiting for? At the cost of a few bets on the blackjack table, you'll get valuable information every month that will make you a much better, and more profitable, blackjack player. To sign up for your BJI Membership with over $50 in free gifts, click here.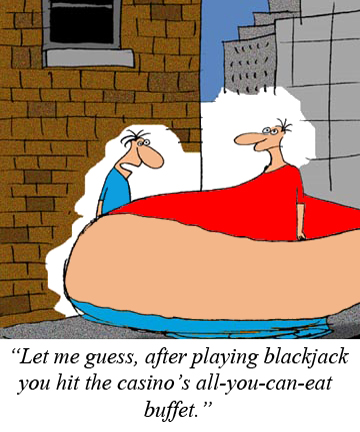 Copyright ©2013, Jerry King, www.jerryking.com. All rights reserved.
This excellent article, which appeared in issue #99, explains the strategies you need to gain the edge at Spanish 21.
If you come across an unfamiliar blackjack term in one of our articles or reports, see our Blackjack Glossary: www.bjinsider.com/questions_glossary.shtml.
Did you know we have all past newsletter issues available in our archives, with online search?
BJI Archives:
www.bjinsider.com/newsletter.shtml#back_issues
BJI Search:
www.bjinsider.com/newsletter.shtml#search
E-mail subscribers can also read each month's issue online at our web site: BJI Issue #165, Oct. 2013.
---
Blackjack Counter+Expert
for Android and iPhone

Contains all features from Mentor, Counter and Expert
in one App for Android and iPhone!
Play Blackjack with advanced casino options AND learn to count cards at the same time! Blackjack Expert teaches you card counting techniques while playing against the computer, or using one its many training modes. This is a professional blackjack training package, containing everything you need to go from beginner to seasoned card counting expert.
Blackjack Expert is a game simulator and testing tool combined in one easy-to-use program. As you play blackjack, your decisions are tested: actions, index plays, bet sizes, and insurance. The software is packed with advanced features for mastering every aspect of Blackjack card counting. Whether you're just looking for a great Blackjack game or looking to learn card counting techniques, Blackjack Expert is the fastest way to improve your game. Card Counting can give you a statistical edge over the casino.
Blackjack Expert contains all of the powerful blackjack training features and drills our users have come to enjoy and expect in our products. The user interface has been greatly enhanced and simplified to leverage the great features of the Android and iPhone, making mastering card counting strategies on the go even easier!
The complete Speed Count system is included with the base application. Or, purchase the complete HighLow count system and others as In-App purchase right inside the software (Add-ons mode), installed immediately into the program.
The new Rules mode lets you select the game rules and count system, and a matching action table and index set are selected automatically.
Create and edit your own count systems from Rules mode. All the powerful high-end features you've come expect from our products are available for Android and iPhone.
144 built-in basic strategy tables for non card counters, selected automatically as you change the rules.
Extensive, context-sensitive help built right into the application. Supplementary documentation on card counting will help novices learn what it is all about. No need to purchase anything else to master card counting!
Simplified settings for Count mode to configure deck counting drills, while all options are still available for advanced users.


Also available... Blackjack Mentor for Android and Blackjack Mentor for iPhone.
What our customers say...
"This is a great TEACHING progam not a game, learn Basic strategy, counting, different count systems, rules. As they say 'Its all in there'."
"This app is perfect. There's no other app like it."
"An excellent app to improve play. Absolutely no glitches!"
"Glad to see this program on the Droid Platform. Works great!"


Also available for Windows
---

---

---

---
"Within a year, John was the most celebrated and sought after player on the southern west coast casinos. He played at such high stakes that they all had reserved tables for him. Granted, he was up by well over a half a million dollars, but he made sure to only take a bit from each casino and to move around a lot..."
Read DeCarlo's complete article.

"Read Eliot Jacobson's detailed analysis on whether it's possible to beat the "In Between" side bet..."

Read Jacobson's complete article.

"This trip included a survey of the five MGM properties that dominate the corner of the Strip and Tropicana Blvd. The highlight of the week occurred right away..."

Read Salveson's complete article.

"This month I ventured into three off-Strip properties in the northern and western sections of the Las Vegas Valley. Station Casinos Inc. owns all three properties - Santa Fe Station, Texas Station, and Red Rock. Here's what I found..."

Read Hoss' complete article.

"This month I report on three casinos that I visited on my whirlwind trip through California and Nevada..."

Read Brooks' complete article.

"The latest playing conditions in Atlantic City, and Frank's analysis on why card counters are often viewed as "Narrow Minded, Arrogant Gits..."

Read Scobletes' complete article.

"Read Gruetze's detailed analysis of the blackjack games in nearly all the Pennsylvania casinos..."

Read Gruetze's complete article.

"John Grochowski answers readers' questions on determining the house edge on video blackjack games, coin-payoffs on video poker machines, and skilled-based slot machines..."

Read Grochowski's complete article.

"The Fire Bet has been available in different venues for a few years now. Here's the analysis of this bet..."

Read Stickman's complete article.

"Check out the schedule of upcoming major blackjack tournaments by region in our Blackjack Tournament Report courtesy of blackjacktournaments.com..."

Read the complete tournament schedule.
©2015, DeepNet Technologies. No material to be copied without express permission of DeepNet Technologies.
This site developed by DeepNet Technologies, Ontario, Canada. Contact webmaster @ bjinsider . com if you have problems.
This site is best viewed in a 800x600 graphics mode, or higher.