(web ads above removed with paid membership. Click here for advertisement rates)


Click here to subscribe to the Blackjack Insider e-newsletter. FREE blackjack advice, sent by e-mail bi-monthly. We never distribute or sell your e-mail address (see our Privacy Policy). The Blackjack Insider is supported by our sponsors, advertisers, and paid-subscribers.
A WORD FROM HENRY
I regret to inform you that BJI contributing writer Vinny De Carlo passed away. Vinny was a well-respected expert in the field of casino surveillance who wasn't afraid to reveal insider secrets to players via his informative and entertaining BJI articles. I have several of his articles that he sent me before he passed, and as a tribute to Vinny, I intend to publish them in future issues of the BJI. It's only fitting that this month's Article Spotlight is an article written by Vinny on the History of Casino Surveillance. I enjoyed working with Vinny, not only on his articles, but also on his groundbreaking ebook that we published (How To Beat Casino Surveillance). Rest in peace my friend.
This month's issue of the BJI begins with a somewhat different article that Vinny wrote about a compulsive gambler who commited suicide (read how in his article). Vinny told me that even though he was in the casino business, he felt sorry for players who couldn't control their gambling habit, and he hoped his article will be a wake-up call for them. We have several blackjack-condition reports from Las Vegas: Caesars Palace and Bellagio (by KC Brooks), and South Point, Silverton, and M casinos (by Stu D. Hoss). You'll also read an excerpt from Frank Scoblete's new book ( I am a Card Counter) about his "tuition runs" to Vegas; a complete strategy for the surrender rule (by yours truly); and answers to reader's questions dealing with the Suit'em Up blackjack side bet, Spin Poker, and single-zero roulette (by John Grochowski). On the video poker front, Jerry "Stickman" presents the complete playing strategy for Super Bonus Deuces Wild video poker, and I've summarized the differences between Class II vs. Class III video poker machines. Lastly, we have the schedule of blackjack tournaments across the U.S. courtesy of www.blackjacktournaments.com.
I also want to mention my friend Steve Bourie's new free American Casino Guide App for Android that allows you to get detailed information on any casino on your Android devices. You can download the FREE app at http://play.google.com/store/apps/details?id=com.sb.android.acg. (For Iphone and Ipad devices, download his FREE app at http://itunes.apple.com/us/app/american-casino-guide/id574179564.)
Enjoy this issue!
Henry Tamburin
Editor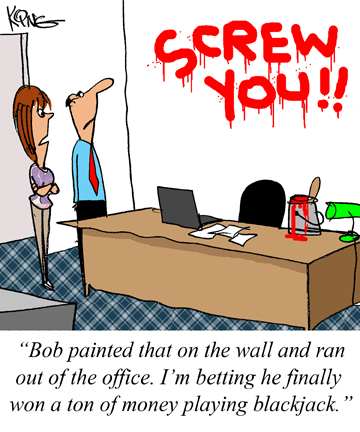 Copyright ©2014, Jerry King, www.jerryking.com. All rights reserved.
This article appeared in BJI issue #121, and it explains the history of casino surveillance as only Vinny could do it.
PRODUCT OF THE MONTH
| | |
| --- | --- |
| | In this new book by Frank Scoblete, he shares with you everything that he knows about beating the casinos at blackjack, including insider techniques that he and a few true pros know about such as End Play, the Fat Finger Method of Card Counting, and Card Grouping. You'll enjoy reading the amazing true story of phenomenal skill, teamwork, casino intrigue, and fascinating characters (including what happened to Frank when the casino bosses in Vegas went after him). A great read. List: $18.95. BJI Price: Only $15.95 (plus S&H). Click here to order. |
If you come across an unfamiliar blackjack term in one of our articles or reports, see our Blackjack Glossary: www.bjinsider.com/questions_glossary.shtml.
Did you know we have all past newsletter issues available in our archives, with online search?
BJI Archives:
www.bjinsider.com/newsletter.shtml#back_issues
BJI Search:
www.bjinsider.com/newsletter.shtml#search
E-mail subscribers can also read each month's issue online at our web site.
---
Do you have to be a Math Whiz to win at blackjack?
NO! Speed Count, the easiest advantage-play blackjack method will have you beating the casinos in only a few minutes of practice. It really is that easy... if you ever play blackjack in the casinos, then you are crazy to not learn the Speed Count card counting method. Add blackjack to your game-plan to beat the casinos, and Speed Count is mathematically proven to get you an edge over the casino. The following software bundles are currently discounted. Nothing is shipped to you: you get to download the full software version immediately after you purchase and use it right away. Here is the list of features in each bundle:
Join the ranks of savvy blackjack players who get the edge over the casino, without the need to be a mathematical genious and months of training! These software bundles contain absolutely everything you need to become an expert card counter, with a focused training regime including pass/fail exercises so you know when you are ready to hit the casinos.
Other software discounts from DeepNet Technologies:
Smart Craps Professional for Windows (www.SmartCraps.com)
Normally $129.95, yours for only $119.95. Click here to order online (immediate online download, not shipped)
Find out if you can control the dice at craps
. Prove whether your dice control skill is working, and what edge you can get.
Includes the Smart Craps simulator, Roll Recorder for Windows and Palm OS, dice set optimizer, advanced betting module, and much more.
Poker Drill Master for Windows (www.PokerDrillMaster.com)
Normally $59.95, yours for only $49.95. Click here to order online (immediate online download, not shipped)
Learn to correctly determine poker pot odds, and make the best decisions at every betting opportunity.
Use the incredibly fast and powerful poker calculator that tells you the winning probabilities and odds for any combination of known and unknown hands and/or board (just like on TV).
Use the powerful poker system editor that lets you select from supplied pre-flop decision methodologies by popular authors and experts, as well as edit or create your own systems.
View the Outs table to quickly find single card outs probabilities and pot odds with one or two cards to go.
---

---
Blackjack Counter+Expert
for Android and iPhone

Contains all features from Mentor, Counter and Expert
in one App for Android and iPhone!
Play Blackjack with advanced casino options AND learn to count cards at the same time! Blackjack Expert teaches you card counting techniques while playing against the computer, or using one its many training modes. This is a professional blackjack training package, containing everything you need to go from beginner to seasoned card counting expert.
Blackjack Expert is a game simulator and testing tool combined in one easy-to-use program. As you play blackjack, your decisions are tested: actions, index plays, bet sizes, and insurance. The software is packed with advanced features for mastering every aspect of Blackjack card counting. Whether you're just looking for a great Blackjack game or looking to learn card counting techniques, Blackjack Expert is the fastest way to improve your game. Card Counting can give you a statistical edge over the casino.
Blackjack Expert contains all of the powerful blackjack training features and drills our users have come to enjoy and expect in our products. The user interface has been greatly enhanced and simplified to leverage the great features of the Android and iPhone, making mastering card counting strategies on the go even easier!
The complete Speed Count system is included with the base application. Or, purchase the complete HighLow count system and others as In-App purchase right inside the software (Add-ons mode), installed immediately into the program.
The new Rules mode lets you select the game rules and count system, and a matching action table and index set are selected automatically.
Create and edit your own count systems from Rules mode. All the powerful high-end features you've come expect from our products are available for Android and iPhone.
144 built-in basic strategy tables for non card counters, selected automatically as you change the rules.
Extensive, context-sensitive help built right into the application. Supplementary documentation on card counting will help novices learn what it is all about. No need to purchase anything else to master card counting!
Simplified settings for Count mode to configure deck counting drills, while all options are still available for advanced users.


Also available... Blackjack Mentor for Android and Blackjack Mentor for iPhone.
What our customers say...
"This is a great TEACHING progam not a game, learn Basic strategy, counting, different count systems, rules. As they say 'Its all in there'."
"This app is perfect. There's no other app like it."
"An excellent app to improve play. Absolutely no glitches!"
"Glad to see this program on the Droid Platform. Works great!"


Also available for Windows
---
---


---
"It seems like only yesterday; but it's been many years since I've seen one of the most memorable things that left an indelible mark on my mind forever. I was helping to start-up a new casino in the mid-west when this happened..."
Read DeCarlo's complete article.

"If you are visiting and want to get away from the Strip, and you should; if you are a local and live in the southern end of the valley or anywhere in Las Vegas for that matter, these three properties might be worth a look. All three are within five miles of one another, and easily accessible. Read on to learn more about what I found..."

Read Hoss' complete article.

"This month we continue are journey exploring the casinos on or around Flamingo Boulevard with stops at two high-end properties located next to each other, Caesars Palace and Bellagio. This is what I found..."

Read Brooks' complete article.

"We started to call our summer trips to Las Vegas the "tuition runs" and that is literally what they were. We needed to make money to bring home. These were not summer vacations; they were summer jobs..."

Read Scoblete's complete article.

"Everything you want to know about the surrender in blackjack including..."

Read Tamburin's complete article.

"John Grochowski answers reader's questions on Suit'Em Up blackjack side bet, Spin Poker, and single-zero roulette games..."

Read Grochowski's complete article.

"Jerry 'Stickman' presents the playing strategy for Triple Deuces Wild video poker..."

Read "Stickman's" complete article.

"Learn the differences between Class II vieo poker machines (usually found in Native American casinos) vs. Class III a machines (found in Las Vegas and elsewhere)..."

Read Tamburin's complete article.

"Check out the schedule of upcoming major blackjack tournaments by region in our Blackjack Tournament Report courtesy of blackjacktournaments.com.

Read the complete tournament schedule.
©2015, DeepNet Technologies. No material to be copied without express permission of DeepNet Technologies.
This site developed by DeepNet Technologies, Ontario, Canada. Contact webmaster @ bjinsider . com if you have problems.
This site is best viewed in a 800x600 graphics mode, or higher.