You'll get inside information on the best (and worst) blackjack games from our team of contributing reporters. Find out the playing conditions at Aliante and Cannery casinos in N. Las Vegas (by Stu D. Hoss); the Caesars Palace and Cromwell casinos on the Vegas Strip (by KC Brooks); and casinos located in Phoenix, AZ area (by JPB). You can get an 18 when you play blackjack in any number of ways. In my article this month, I explain how to play them correctly. Have you made your New Year's Resolution yet? Paul Wilson has some good ones for casino players in his article. If you plan to bet on your favorite college basketball team in the upcoming NCAA Basketball Tournament, I'd recommend reading Joe Freda's article for some sports betting tips. (Go Terps, my favorite team.) If you are a video poker player, or want to become one, don't miss reading the following two articles: Dunbar explaining the important topic of "variance" in video poker games, and Jerry "Stickman" on what to do if you are faced with a great video poker game but the casino doesn't offer any or "reduced" player's club points. John Grochowski answers several readers' questions dealing with the Any 7 bet in craps; making the even money bet in a 6-5 blackjack game; and why video poker players get less comps than slot players. Last, but not least, we have the upcoming schedule of blackjack tournaments courtesy of www.blackjacktournaments.com.
The next hands-on Speed Count blackjack class that I will be teaching will be held in Las Vegas on June 24th. You can receive a $100 early-bird discount if you sign up for the class by April 24. To read more about the class, go to www.goldentouchblackjack.com. Classes fill up quickly so if you want to attend, sign up ASAP.
Two of my columns that appear in the current issue of Casino Player (Blackjack Quiz) and Strictly Slots magazines (Interview with Dunbar on Risk of Ruin in Video Poker) are posted on the Internet. You can read them at:
http://www.casinocenter.com/strictly-slots/
PRODUCT OF THE MONTH
| | |
| --- | --- |
| | We just received copies of BJI contributing writer Dustin Mark's new book, Cheating at Blackjack. This book contains clear explanations and detailed illustrations of cheating moves from one of the world's greatest casino cheats from both the player and dealer sides of the table-all to get the money. A great read. 235 pages. Retail price $19.95. BJI Price: $15.95 plus shipping. Click here to order. (Note: Dustin's five part series on "Cheating in Blackjack" appeared in issues 182-186 of BJI.) |
Henry Tamburin
Editor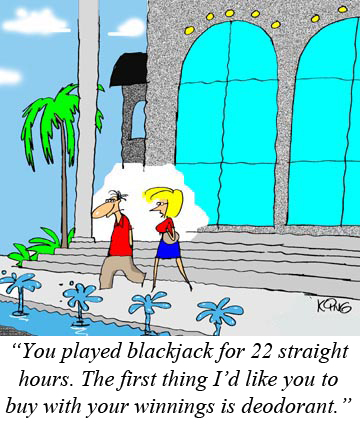 Copyright ©2015, Jerry King, www.jerryking.com. All rights reserved.
It's that time of the year when we are starting to plan to do our taxes. If you've won money in a casino, read the advice of attorney Robert Loeb, whose article on Gambling and Taxes, appeared in issue #182 BJI.
---
Blackjack Counter+Expert
for Android and iPhone

Contains all features from Mentor, Counter and Expert
in one App for Android and iPhone!
Play Blackjack with advanced casino options AND learn to count cards at the same time! Blackjack Expert teaches you card counting techniques while playing against the computer, or using one its many training modes. This is a professional blackjack training package, containing everything you need to go from beginner to seasoned card counting expert.
Blackjack Expert is a game simulator and testing tool combined in one easy-to-use program. As you play blackjack, your decisions are tested: actions, index plays, bet sizes, and insurance. The software is packed with advanced features for mastering every aspect of Blackjack card counting. Whether you're just looking for a great Blackjack game or looking to learn card counting techniques, Blackjack Expert is the fastest way to improve your game. Card Counting can give you a statistical edge over the casino.
Blackjack Expert contains all of the powerful blackjack training features and drills our users have come to enjoy and expect in our products. The user interface has been greatly enhanced and simplified to leverage the great features of the Android and iPhone, making mastering card counting strategies on the go even easier!